Retail Option Traders Re-Up Bets After Stock Darlings Plummet
(Bloomberg) -- Monday's massacre of the previously high-flying stocks beloved by retail investors who hang out in online investing forums is giving way to a turbo-charged turnaround for a handful of their favorites on Tuesday.
Shares of Lumber Liquidators were up as much as 24% early in the day, enough to wipe out the prior session's 18% decline for a while. Virgin Galactic Holdings, which managed to erase a loss of 14% with a late-day rally Monday, is building on the momentum gains and far outpacing the S&P 500's performance. Plug Power, which soared in pre-market trading, turned negative before 10:00 a.m. in New York, which shows these moves may not have much staying power.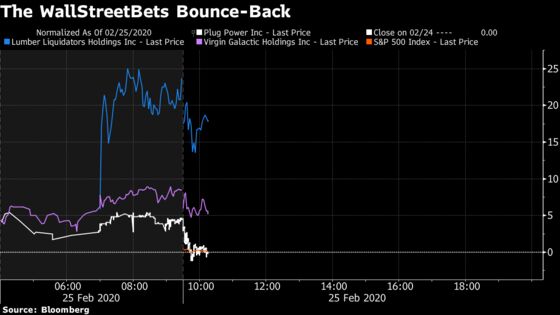 The stocks have benefited from an explosion of interest in call options from retail investors that have helped prop up prices. A Reddit user was even banned from the r/wallstreetbets message board for posting a long thesis on Lumber Liquidators that spurred an anomalous rise in call option activity and was subsequently branded a pump-and-dump attempt.
Early in Tuesday's session, at least 2.5 calls are changing hands for every put in each of these stocks, with that ratio as high as 7.5 for Lumber Liquidators.