Marijuana Firm Curaleaf Seeks Valuation Up to $4 Billion
(Bloomberg) -- Curaleaf Inc., a vertically integrated cannabis operator, is banking on the marijuana craze being far from over to propel its reverse takeover of a Canadian listed company.
The Wakefield, Massachusetts-based company plans to offer subscription receipts at C$8.56 to C$11.47 per initial receipt, equivalent to $6.5709 to $8.8059 (assuming 1.30245 USD/CAD exchange rate). The range is based on a fully diluted pre-offering equity valuation between $3.0 billion and $4.0 billion, according to a term sheet reviewed by Bloomberg. GMP Securities and Canaccord Genuity are co-leading the offering, according to the terms.
Canada's Lead Ventures Inc. combined with PalliaTech Inc. in August and formally changed its name to Curaleaf to reflect its brand of marijuana dispensaries and medical cannabis products. The company focuses on high-population states with limited licensing opportunities, such as Florida, Massachusetts, New Jersey and New York, according to its website.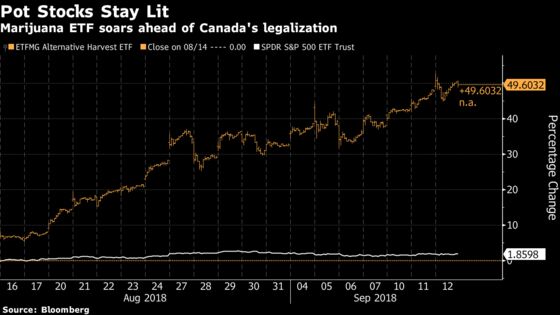 Bloomberg recently reported the U.S.-listed $436 million ETFMG Alternative Harvest ETF, or MJ, took in about $22 million in August, putting it on track for the largest monthly inflow since February. The ETF is up about 42 percent over the past month versus the SPDR S&P 500 ETF, which is up about 2 percent. Canada plans to legalize recreational marijuana use on October 17.
Curaleaf will use net proceeeds from its offering to complete complete certain committed acquisitions pending regulatory approval, to purchase certain minority buy-outs, to fund some infrastructure construction and renovation and for other general corporate purposes. Chris Melillo, a former Senior Director of Stores North America for Nike, was named Senior Vice President, Retail Operations, according to a release Wednesday morning.