Retail Investors Pocket Gains With Eye Toward Bumpy Year-End
(Bloomberg) -- As solid vaccine news powered stocks to a historically strong November, mom-and-pop traders headed for the exits.
Clients at TD Ameritrade were net sellers of equities last month, the retail brokerage said in a release Monday, halting an eight-month stretch where small traders poured into the stock market, including in March when the S&P 500 plunged into the fastest bear market on record.
The turnabout came even as multiple drugmakers reported strong vaccine results, sparking bets that economic activity can return to normal sometime next year. While retail traders were bailing, exchange-traded fund investors added a record $81 billion to equity funds in one of the biggest deluges of cash on record.
Mom and pop have a sturdy track record in 2020, adding to stocks in the March downturn and riding the 46% rally through October. The group piled into companies that benefit from a return to normal activity long before the vaccine news made that November's best trade. Last month, with widescale inoculation still months away and the raging virus causing tighter restrictions across the country, retail traders may have gotten jitters.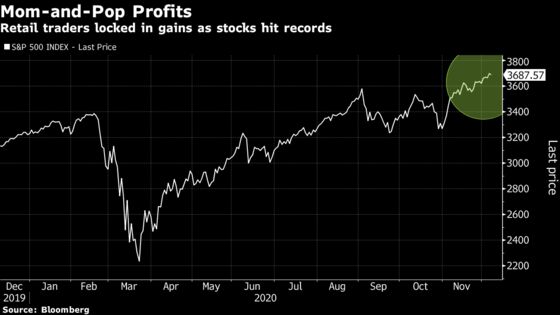 "People see it in their personal lives," said JJ Kinahan, chief market strategist at TD Ameritrade. "Even though the vaccine is coming out, what does this mean in terms of the next step? There might be some nervousness around, how do the logistics start to work? Can we continue this momentum until people actually do get the vaccine?"
Depending on when the firm's clients sold, many missed epic rallies. Among the stocks to see selling, Bank of America Corp. jumped almost 19% for its best month since 2016 and Walt Disney Co. surged 22%. The S&P 500 rose 11% in the period to an all-time high.
Investors of all stripes have had to grapple with whether to look past the surge in virus cases and the likely economic hit it will bring or to focus on the likelihood for a federal spending package until the eventual return to normal activity. With impressive gains in 2020 already swelling their brokerage accounts, retail traders grew more comfortable not waiting to see if the latest run had gone too far too quickly.
"A lot of people since March have done pretty well, so I think a lot of people want to take some risk off the table," said TD Ameritrade's JJ Kinahan. "A lot of people say, 'hey good year, take off, maybe see what happens next year.'"