From Best Buy to Gap, Retail Carnage Erases $10 Billion of Market Value
(Bloomberg) -- Disappointing earnings reports have cost prominent U.S. retailers about $10.7 billion in market value this week, with stalwarts such as Nordstrom Inc. and Gap Inc. posting their worst one-day plunges on record.
Investors shaved about $1.5 billion off Nordstrom on Wednesday, with the stock closing down 29%. The cut for Gap was even deeper at about $2.1 billion, while two days of carnage overtook Dick's Sporting Goods Inc. (down about $1.4 billion) and Abercrombie & Fitch Co. ($460 million).
All of them were dwarfed by Best Buy Co., which has shed about $5.2 billion since the consumer electronics retailer reported results Tuesday that included weaker margins.
Meanwhile, the five tech megacaps that constitute FAANG stocks lost about $87 billion in combined market value so far this week, amid a selloff in the Nasdaq 100 index on Monday and Tuesday.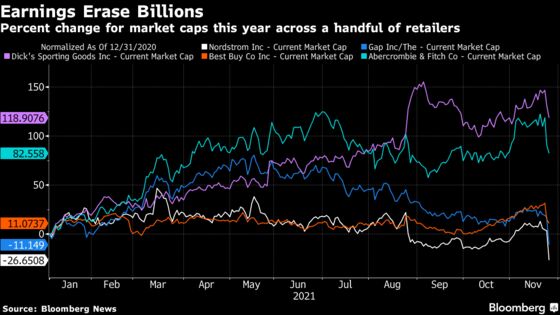 Nordstrom posted its biggest drop on record, closing at its lowest level in a year. Gap suffered a similar fate, also falling by its most ever to close at the lowest since September 2020.
Vital Knowledge's Adam Crisafulli said in a note that "retail earnings are strong in aggregate," and that there were "healthy reports" from Best Buy and Abercrombie, among several others. 
"Not all these stocks saw gains coming away from their results, but regardless the numbers were still solid (and mgmt. teams were sanguine nearly across the board when it comes to demand)," Crisafulli wrote. He added that "there were certainly some blowups," calling Gap and Nordstrom two of the biggest. 
While the tumble cast a pall on the sector just days before Black Friday, which kicks off the crucial holiday shopping season, S&P's retail index finished the day nearly unchanged. Among the bright spots: Guess? Inc. advanced 11% Wednesday after reporting results that beat estimates. 
A day earlier, Dollar Tree Inc. was the S&P 500's top performer with a 9% rally after posting results that beat some estimates -- and lighting up social media by raising its standard price for items by 25% to $1.25.