Restaurants Rush to Buy Masks After U.S. Guidelines Change
(Bloomberg) -- Masks are so hard to get that Starbucks Corp. is advising its baristas to make their own, at least for now.
Restaurants in the U.S. are rushing to buy masks for in-store workers. But they're not easy to come by. Starbucks, Domino's Pizza Inc., McDonald's Corp. and Subway Restaurants are trying to get as many as possible to keep stores up and running after the U.S. government issued updated guidance to wear face coverings when in public to slow the coronavirus pandemic.
"I wish we could have gotten them sooner," said Domino's franchisee Rob Scheiper, co-owner of MAR Pizza Inc., which has dozens of locations in South Carolina, Chicago and Los Angeles. He said it's important to protect workers and recently bought his own some bandannas and black washable masks.
"You should see the drivers wearing masks or bandannas or washable masks," he said. "I think that's going to make people feel better, and hopefully feel safer."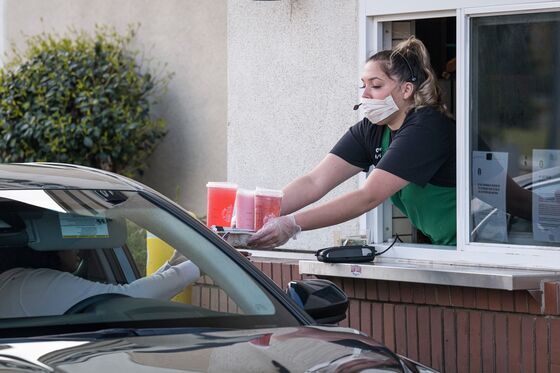 Domino's made non-medical grade masks and gloves available for restaurants to buy at cost starting this week, with priority going to places where the virus is more acute, said spokeswoman Jenny Fouracre. "Securing certain supplies such has been difficult," she said.
Scheiper is also now purchasing some of these company masks and gloves. "They're not all that expensive, but you go through a lot of them," he said.
Starbucks made facial coverings a requirement for all store workers as of Tuesday this week, the company said in an emailed statement. It will provide masks to workers at all stores that remain open. In the interim, the chain has given its workers tutorials and information on how to make their own facial coverings from store supplies -- if they don't have their own available.
"We changed the policy in less than 24 hours," a Starbucks spokesman said in an emailed statement, adding that it may take some time to get the masks to workers.
Subway confirmed in an email that the company is sourcing masks for franchisees and workers.
Restaurants are struggling with sales drops as much of the U.S. remains on lock down due to the rapidly spreading Covid-19 virus.
Romano's Macaroni Grill Inc., with about 80 U.S. locations, is also trying to get its hands on as many masks as possible. They were able to get some cloth ones that will be available for workers this week, Chief Executive Officer Nishant Machado said in an interview.
"It's incredibly hard to source," he said.