Republicans Willing to Back $500B Stimulus, Menendez Says
(Bloomberg) -- Two or three Republican senators are "just about committed" to supporting a $500 billion stimulus bill that would send money to states and counties hammered by the economic impact of the coronavirus pandemic, said U.S. Senator Bob Menendez, a New Jersey Democrat.
Menendez, who is cosponsoring the bill with Senator Bill Cassidy, a Republican from Louisiana, said the additional GOP senators would be ready to commit to the proposal by the end of this week. And there's "a lot of momentum" in the House of Representatives, Menendez said at a news conference in Trenton.
New York Governor Andrew Cuomo, speaking at his own briefing, said he was optimistic that the House would vote this week.
"We need to get the federal government to recognize the situation that state governments face and fund not just corporate America, but fund working Americans -- police, firefighters, schoolteachers," said Cuomo, a Democrat who leads the hardest-hit state. "They have yet to do that to the extent necessary."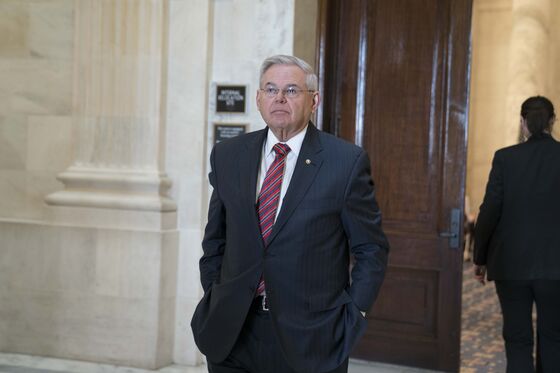 New Jersey Governor Phil Murphy announced that the state had fewer than 1,000 patients on ventilators for the second-straight day. New Jersey deaths hit 9,310, he said, while its total number of Covid-19 cases was nearly 140,000.
The state is "seeing real progress" on its positivity rate, but wider testing is still needed, Murphy said. While Cuomo said northern parts of his state are ready to re-open, New York City isn't, and New Jersey remains closed. Murphy said he will detail some reopening criteria this week, and warned that restrictions will lift in stages and according to population density and other factors.
On April 11, New Jersey reported cases increased 6% and deaths went up 13% over the prior 24 hours. So far in May, daily cases haven't gone up more than 2% and deaths haven't surpassed 4%.
In a first, New Jersey on Sunday started offering testing at two sites to asymptomatic people, with priority for those with known virus exposure, plus health-care, front-line and communal-housing workers. Murphy called the plan a chance "to dip our toe in the water" for statewide testing that must take place, he says, before social-distancing rules are relaxed and the state starts to reopen.