Republican Voters Bet on Stocks After Trump's Win. Democrats Didn't
(Bloomberg) -- The U.S. stock market is booming, but your share of the gains probably depends on whether you voted for Donald Trump in 2016.
Following the election, Republicans were more likely than Democrats to increase their investments in U.S. stocks, according to a working paper circulated by the National Bureau of Economic Research. The authors, from MIT's Sloan School of Management, analyzed portfolio holdings of millions of anonymized households with trillions of dollars of wealth.
Republicans, more optimistic about the future, invested more in assets exposed to economic performance, according to the paper. Democrats, in general, did not. Instead, they increased their relative investments in bonds and cash.
Since Trump's surprise victory on Nov. 8, 2016, the S&P 500 Index returned more than 40 percent, including reinvested dividends, trouncing the performance of fixed-income assets. The Pimco Total Return Fund, by comparison, returned just 1.6 percent.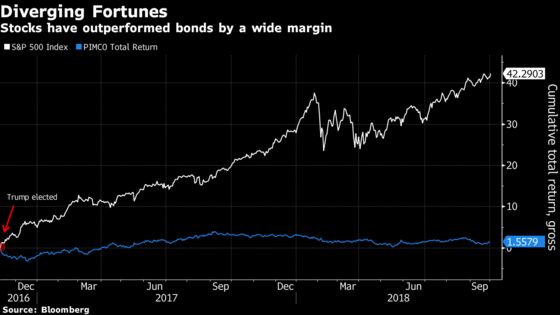 The authors of the paper organized the portfolio holdings of households into likely political affiliations by ZIP code using individual campaign donations during the 2015-16 election cycle.