Europe's Corporate Debt Market Returns After Virus Halted Sales
Sherwin-Williams Co. and six other companies reopened the U.S. corporate bond markets after a week-long hiatus, following a handful of deals earlier Tuesday in Europe.
The offerings mark the return of borrowers to primary debt markets after concerns about the spread of the coronavirus had virtually frozen issuance across the regions. Sherwin-Williams's deal was the first U.S. sale since Feb. 21, when maintenance supply distributor W.W. Grainger Inc. sold $500 million of five-year notes. New high-grade debt has also suffered in secondary market trading since then.
"Even in the worst of times, there will always be demand for good names," said John Sheehan, a portfolio manager at Osterweis Capital Management. "As bad as things feel in the marketplace, if you put a concession on names people are comfortable with, you'll get new issues done."
Most deals in the U.S. had already been announced by 9:30 a.m. in New York, before the Federal Reserve said it was cutting interest rates by 50 basis points to protect the economy from the spreading virus. While Chairman Jerome Powell didn't cite any financial stability concerns, he did say the Fed would have bank supervisors advise banks to work with borrowers as appropriate if they face stresses.
Sherwin-Williams and six others including McDonald's Corp. and Texas Instruments Inc. sold debt in the U.S., a swatch of fairly high-quality borrowers the market is already familiar with. The paint manufacturer issued $1 billion of senior unsecured notes in two parts. The longest portion of the offering, a 30-year security, yields 1.7 percentage points above Treasuries, after initially discussing around 1.95 percentage points, said a person with knowledge of the matter, who asked not to be identified as the details are private.
Companies sold $5.9 billion of U.S. investment grade bonds Tuesday, with most rushing to get deals done as rates volatility picked up after the Fed announcement. Some of today's deals, such as the McDonald's $2 billion debt offering, are already trading wider in the grey market, according to traders.
In Europe, Honeywell International Inc. and publisher RELX Plc both offered multi-tranche euro-denominated deals, the first company bond sales since Feb. 25. Marketwide issuance will reach at least 5.79 billion euros ($6.43 billion) on Tuesday, with German lender Commerzbank AG also among the borrowers offering notes.
Borrowers will likely have to accept that the funding environment won't resemble what it was just a few weeks ago. Spreads have blown out, rates have rallied to historic lows and global markets remain riddled with uncertainty. This all suggests that issuers may have to sweeten deals in the form of elevated new issue concessions. And should deals go well, it could bode for more issuance in the rest of the week, said Erin Lyons, U.S. credit strategist at CreditSights.
Still, investors will be disciplined in what they buy in the new issue market, said Tony Trzcinka, a portfolio manager at Impax Asset Management.
"We are definitely choosing our spots," Trzcinka said. "I don't see a need to rush to add corporate exposure."
The deals in Europe are low risk. Two deals are from German provinces while Commerzbank's bonds are eligible for the European Central Bank's asset purchase program. High quality names and ultra-safe securities offer a "sweet spot to confirm investors' willingness to engage," in the market, said Matteo Benedetto, an executive director at Morgan Stanley & Co.
Debt sales across Europe and the U.S. ground to a halt last week as the coronavirus spread across the world worsened, with the number of confirmed global cases now topping 90,000. Pledges of central bank support are boosting financial markets, with a gauge of default risk for European companies headed for its first day of tightening spreads -- indicating that sentiment has improved -- since Feb. 19.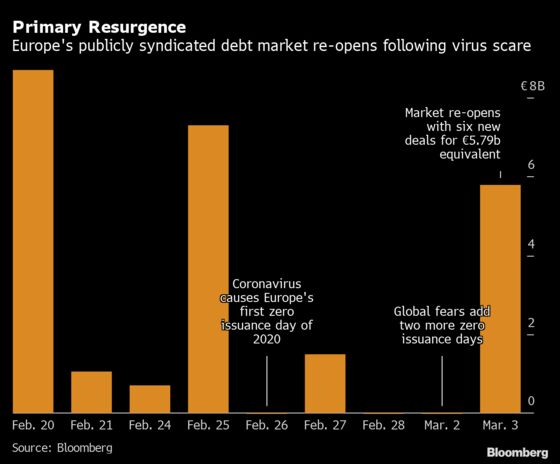 Charlotte, North Carolina-based Honeywell came through with a 1 billion-euro sale, three weeks after first hiring banks for the deal. It offered notes split between maturities of four and 12 years, with the longer tranche to price at 90 basis points above midswaps, down from around 115 points earlier, according to a person familiar with the matter, who asked not to be identified citing company policy.
RELX raised 2 billion euros, spread across notes maturing in four, eight and 12 years. The order book for the deal had grown to more than 11 billion euros, people familiar with the demand said. German states Lower Saxony and Hesse were also among Tuesday's borrowers.
Quick reactions "will be one of the keys to success" for borrowers venturing back into Europe's primary bond market amid coronavirus-fueled volatility, said Gabriel Levy, global head of debt capital markets for financial institutions at Natixis SA.
"The coronavirus has shown that issuers were right to move quickly earlier this year," Levy said.