Relief Rally Seen in Store for Pound If Brexit-Deal Vote Delayed
(Bloomberg) -- The pound may receive a short-term boost should U.K. Prime Minister Theresa May give in to increasing pressure to postpone a vote Tuesday on her Brexit deal.
Lawmakers lined up over the weekend to call on May to delay taking her deal to Parliament in order to avoid a possible heavy defeat, and instead ask the European Union for further concessions.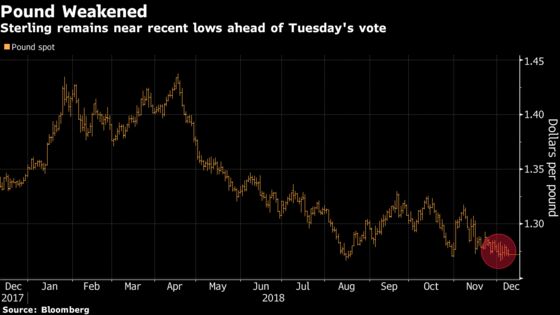 Postponing the vote could push sterling above $1.28 in the short term, but wouldn't address the broader problems with the deal, according to Canadian Imperial Bank of Commerce.
"A postponement would encourage a small but temporary relief rally," said Jeremy Stretch, head of Group-of-10 currency strategy at CIBC. "Postponing the vote does not resolve the fundamental problems the government faces. In the current environment, $1.2800-25 is a good sell zone."
Traders who are short the pound would no longer have an immediate incentive to keep their positions if the vote is called off, leading to the relief rally. The pound was little changed at $1.2727 as of 9:58 a.m. London time, after falling 0.2 percent last week. It weakened 0.3 percent to 89.67 pence per euro.