Relative Performance of U.K. Bonds Hinges on New Year's Data
(Bloomberg) -- It's a waiting game for U.K. rates to see whether growth bounces following the election or if uncertainty remains entrenched.
Investors will still see value in gilts next year, particularly on a cross-market basis, if the growth outlook doesn't materially improve. Tightening pressure with bunds may remain if growth prospects diverge and Brexit uncertainty rises during the transition phase. Conditional expressions may be favored for the case of confidence returning to the U.K.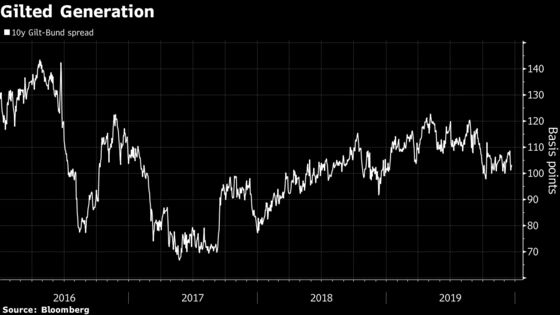 A decisive election outcome wasn't enough to shake-off pricing for a Bank of England rate cut, which increased following the government reducing optionalilty for an extension to the transition period.
The 10-year yield has been tracking the short-end perfectly this year and will fall if BOE rate-cut pricing increases.
A rate cut may remain close to a coin toss with the Brexit process potentially requiring further monetary support if the prolonged uncertainty doesn't see a decent rebound in data. It depends on how big the initial post-election confidence bounce turns out to be, and conditional expressions makes sense.
Hedging the case of a positive Brexit outcome and an improved growth picture may be expressed via conditional bear steepeners on the expectation that the swap curve will remain directional. Fiscal loosening can add bearish pressure but 2020 transition uncertainty could dominate.
The sell-off in rates on the morning open after the election was short lived and the market doesn't think normalization of rates will happen any time soon. Sonia forwards price a 65% chance of a BOE rate cut by the end of next year. The one-month Sonia forward curve is pricing the Bank Rate at the three-year forecast horizon essentially at the current rate.
Implied volatility on the 10-year swap rate is suggesting a potential range of around 20bps over the next three months, which doesn't appear unreasonable given the macro picture.
Selling long-end gamma was profitable in the first half of 2019 and may continue to bleed in 1Q 2020, as the immediate Brexit tail risks have gone. Gamma should shift higher later in the year if cliff-edge concerns return and the strong negative directionality of implieds to yields will repeat.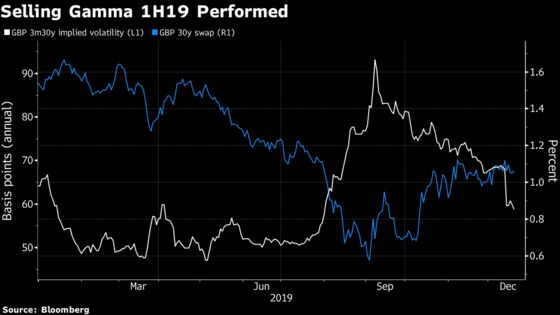 NOTE: Tanvir Sandhu is a global fixed income and derivatives strategist who writes for Bloomberg. The observations he makes are his own and are not intended as investment advice.