Reflation Frenzy Drives Historic Gap Between U.S. and Europe
(Bloomberg) -- Europe is getting left in the dust like never before by the reflation frenzy across the Atlantic.
Rising energy costs are driving yields on Treasuries and German bunds higher, yet market proxies for inflation expectations in the U.S. are outpacing those in the euro area by the most in over a decade.
While the White House preps a $1.9 trillion stimulus package to boost growth, it's a different story in the single-currency bloc where a stumbling vaccine rollout threatens to intensify a likely double-dip recession.
All this offers a historic U.S.-Europe divergence trade, for money managers like BlueBay Asset Management and Aberdeen Standard Investments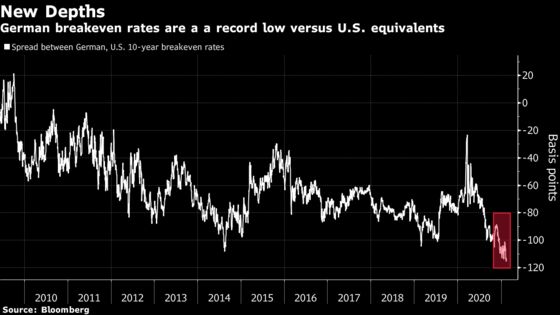 "We are looking for a reflation theme in 2021 but see this most pronounced in the U.S. due to expansive fiscal policy," said portfolio manager Mark Dowding at BlueBay Asset. "I'm more inclined to see euro-zone inflation come back down after a temporary rise, even as U.S. inflation pushes higher this year."
A debt gauge of future inflation in Germany is slumping to an all-time low versus its U.S. counterpart. Treasury and bund curves are drifting apart to levels unseen in about a decade. Small-cap companies in the continent tied to the business cycle are lagging a big rally in U.S. benchmarks.
Still, while investing strategies linked to economic expansion in the euro area are badly underperforming American counterparts, they did see big moves last week.
German 30-year yields turned positive for the first time in five months, as American equivalents hit a one-year high. Europe's five-year forward, five-year inflation swaps -- a key gauge of long-term price expectations -- rose to early 2019 levels.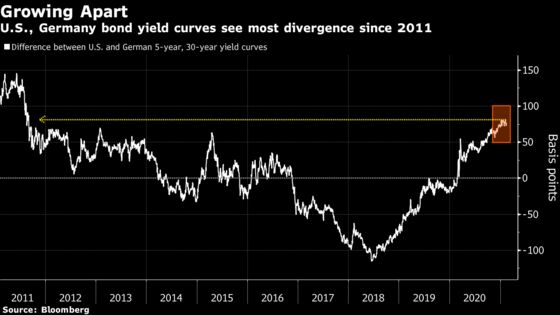 Even after a soft report on consumer prices, bond proxies of U.S. inflation expectations rose to the highest since 2014 last week. The yield curve, a barometer of economic health, tested the steepest levels in five years.
The spark was twofold: Treasury Secretary Janet Yellen's call for stimulus to steer the U.S. out of the coronavirus crisis, and efforts to install former European Central Bank President Mario Draghi as the premier in Italy.
Yet stringent lockdowns, vaccination delays and deflationary pressures are set to weigh on Europe's famously lifeless bond markets, making divergence trades all the rage.
Last week, the European Commission cut its 2021 growth forecast to 3.8% from 4.2%, while projecting price growth to average 1.3% in 2022. The International Monetary Fund meanwhile sees the region lagging international peers.
"The euro zone will recover somewhat as vaccines are rolled out but the structural problems facing the region eurozone remain," said Charles Diebel at Mediolanum International Funds Ltd. The portfolio manager is betting the 10-year Treasury-bund spread will hit 200 basis points versus about 164 currently.
Read more:
Lagarde: It'll Take a While Until ECB Must Worry About Inflation
Reflation skeptics like Steven Major meanwhile are telling clients to wager against the recent advance in market-derived price expectations.
"It seems odd that the market has repriced for the ECB to hit its inflation target, at a time when the amount of economic slack argues for the maintenance of policy accommodation," the global head of fixed income research at HSBC wrote in a note. "We suggest positioning for the opposite."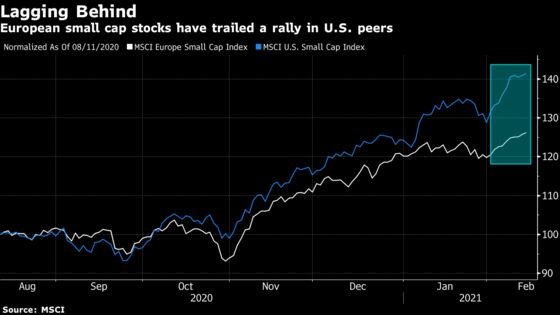 In one view, the fledgling reflation trade in Europe is simply a spillover from the U.S. rally, with the latter guided by the Federal Reserve's recent pronouncements that it would tolerate a temporary inflation overshoot.
"If U.S. and euro-zone markets were completely isolated from each other, we'd wager that no reflation trade would be happening this side of the Atlantic," strategists at ING Groep NV wrote.
The upshot? U.S. price pressures still look contained for now, but there's faith that the business cycle stateside is set to perk up while Europe has a familiar tale of stagnation to tell.
"The U.S. is going through massive creative destruction right now -- but we know that it will bounce back hard," said portfolio manager Luke Hickmore at Aberdeen Standard Investments. "I would love for that to be the case in Europe but just don't see a lot of evidence of it."