Refinancing Rush May Spur High-Yield Bond Sales in Early 2020
(Bloomberg) -- The spate of refinancings that have dominated Europe's high-yield market this year looks set to continue into 2020.
Speculative-grade companies in Europe with 11.75 billion euros-equivalent ($13 billion) of bonds outstanding may call the notes for the first time from January through March next year. Bonds sold by Altice France SA, Ziggo BV, Selecta Group BV and Ardagh Packaging Finance Plc are among the 25 speculative-grade issues in the sample compiled by Bloomberg.
"Issuers should continue to refinance their debt and achieve better funding conditions," said Benjamin Sabahi, head of credit research at Spread Research. Central bank support and "high levels" of cash among investors mean the market will continue to move in borrowers' favor, encouraging more companies to refinance their debt, according to Sabahi.
A call option enables borrowers to redeem the bonds at pre-determined prices on scheduled dates before maturity. Those notes with a bid level trading above their call price give issuers a greater incentive to refinance.
"Our credit outlook has spreads wider in 2020, particularly in the second half due to concerns around rising recession risks," Nick Burns, a credit strategist at Deutsche Bank AG in London, said in interview. "If we are right then there would be a reasonable argument to come to the market sooner rather than later."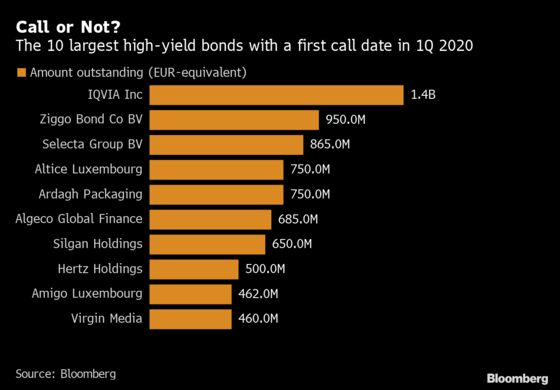 Rock-bottom interest rates have encouraged a string of borrowers to refinance their bonds at the earliest opportunity. This has led to a drastic reduction in interest expense for issuers such as Rossini Sarl, which achieved a 40% cut in borrowing costs by replacing notes it had sold just a year earlier with new debt.
Refinancings have accounted for 74% of high-yield bond sales in Europe this year, compared to 55% in 2018 and 69% in 2017, according to a research note by Barclays Plc. The bank's analysts expect this trend to remain "relatively strong in 2020" with around 40 billion euros of gross issuance coming from refinancing next year.
The average yield for speculative-grade corporate bonds across Europe is currently 3.7%, according to Bloomberg Barclays index data. That compares with a 5.0% average coupon (weighted by outstanding) for the 25 bonds in the sample.
"Unless there's a major blow to trade talks, there are reasons to be optimistic about the macroeconomic situation going into 2020," Spread Research's Sabahi said. "So we're likely going to see the same trends supporting the market, with possibly more cyclical issuers."
Of the 25 notes on the list for which bid and call prices are available, 16 currently have a bid level close to or above their call price
That relatively high ratio follows a yearlong rally in Europe's high-yield market, which has seen average yields narrow from 5.47% to 3.72%
In contrast all the bonds that could have been called in the first quarter of this year were trading below their call price after being hit by a sell-off in the market in December 2018
Altice features among likely candidates for the call/refinancing exercise next quarter given its earnings beat estimates in the third quarter as billionaire Patrick Drahi's phone company benefited from accelerating mobile subscription growth in France
Another potential candidate is Selecta Group BV; its bonds trading to first call "could be seen as a reflection of the stable fundamentals in Selecta's end-markets," Bloomberg Intelligence analyst Stephane Kovatchev said in an October note
"This said, should current trends persist, high leverage and meagre cash-flow could potentially endanger short-term refinancing prospects," Kovatchev added
| Ticker | Coupon | EUR (m) | Maturity | Call Px | Bid Px | First call |
| --- | --- | --- | --- | --- | --- | --- |
| HTZ | 5.5 | 500 | 30/03/2023 | 102.75 | 103.922 | 30/03/2020 |
| STKGRP | 5 | 250 | 15/03/2024 | 102.5 | 101.627 | 15/03/2020 |
| ARWLN | E+375 | 285 | 01/03/2026 | 101 | 100.128 | 02/03/2020 |
| POLYGN | 4 | 250 | 23/02/2023 | 102 | 101.55 | 23/02/2020 |
| NDXGR | 6.5 | 275 | 01/02/2023 | 103.25 | 103.477 | 01/02/2020 |
| SELNSW | 5.875 | 865 | 01/02/2024 | 102.9375 | 101.943 | 01/02/2020 |
| SELNSW | 5.875 | 215.6 | 01/02/2024 | 102.939 | 101.865 | 01/02/2020 |
| SLGN | 3.25 | 650 | 15/03/2025 | 101.625 | 102.238 | 15/03/2020 |
| RXLFP | 2.625 | 300 | 15/06/2024 | 101.313 | 101.829 | 15/03/2020 |
| ARGID | 2.75 | 750 | 15/03/2024 | 101.375 | 101.756 | 15/03/2020 |
| IQV | 3.25 | 1,425 | 15/03/2025 | 101.625 | 102.077 | 15/03/2020 |
| JERRGB | 6.125 | 412 | 15/01/2024 | 103.063 | 102.312 | 15/01/2020 |
| AXTA | 3.75 | 450 | 15/01/2025 | 102.813 | 102.782 | 15/01/2020 |
| ZIGGO | 4.625 | 950 | 15/01/2025 | 102.313 | 102.591 | 15/01/2020 |
| VMED | 4.5 | 460 | 15/01/2025 | 102.25 | 102.237 | 15/01/2020 |