Record U.S. Covid-19 Surge Reaches America's Oldest Populations
(Bloomberg) -- The record Covid-19 spike that started with young Americans is increasingly finding older communities at elevated risk of severe illness.
Counties with the largest 65-and-over populations are now recording on average 18.9 daily cases per 100,000 residents, 67% higher than a month ago, according to the latest data from the U.S. Centers for Disease Control and Prevention.
Relative havens at the start of September, those counties are now worse than those with the smallest percentages of older Americans, and just slightly better than those with moderately sized cohorts of the elderly.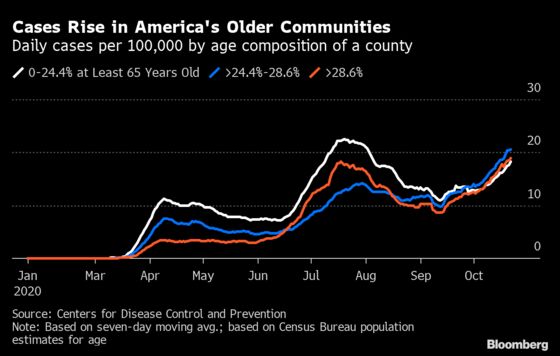 That follows a familiar pattern. Cases generally rise first among highly social young people, including recently returning college students. Then, they slowly bubble up among older demographics, in part through multigenerational housing and other interactions. An analysis published in the CDC's Morbidity and Mortality Weekly Report last month found that increasing infections among younger adults were generally followed by upticks in the 60-plus demographic in the same area from four to 15 days later.
Nationally, the U.S. reported 60,683 cases Sunday, pushing the seven-day average to a record 68,792, according to Johns Hopkins University. The tally also hit a single-day record of 85,317 on Saturday.
There have been about 225,000 deaths.
According to Covid Tracking Project data: