Heat Dome Smashing Northwest Records Began With China Rain
(Bloomberg) -- Heavy rain in China, an expanse of warm water stretching across the North Pacific, and kinks in the jet stream are combining to drive an unusual heat wave that will set records in the Pacific Northwest.
Seattle and Portland may post their hottest June days in history, while heat warnings are posted in Canada as far north as the Arctic Circle. The dangerously hot temperatures raise wildfire risk, may worsen air pollution, and pose public health threats in a region where many don't have air conditioning.
The warmth is building under a so-called heat dome that may have been exacerbated by climate change. It's similar to the weather pattern earlier this month that led to a California heat wave, according to Jeff Masters, a meteorologist with Yale Climate Connections. Kinks in the jet stream have pinned summer weather in place leading to prolonged heat waves and drought, as well as storminess and flooding.
"The unusual waviness of the jet stream was associated with a pattern we have been seeing more often in summer, which has been connected to human-caused climate change," Masters said.
The current heat wave over the Northwest started with flooding rains across China on June 23, said Masters. That fed energy into the jet stream across the North Pacific, making it stronger than usual and setting off a chain reaction of weather patterns that led to the high pressure ridge building over western North America and driving temperatures up in the U.S. and Canada.
The heat, as well as the conditions that have caused widespread drought across the U.S. West, may have been made worse by warm water stretching across the North Pacific, as well as parts of the Bering and Chukchi seas near Alaska, said Jennifer Francis, a senior scientist at the Woodwell Climate Center. That pattern may have been exacerbated by less sea ice in the Arctic this year, a situation made worse in recent decades by climate change.
The worst heat will center on the Northwest and then seep east into Idaho by Monday, though California will also see oppressive conditions. The Golden State's power grid manager said it's closely watching the situation. Excessive heat warnings cover areas east of Los Angeles, where temperatures could reach 110 degrees Fahrenheit (43 Celsius) Sunday and Monday, and other parts of the state.
Portland will likely have its hottest day Sunday, when temperatures reach 107F, which would set a new June heat record, according to the National Weather Service. Seattle may reach its peak Monday with a high of 106F smashing its all-time high of 103F.
"It's very impressive," said Dan Petersen, a senior branch forecaster at the U.S. Weather Prediction Center. "It is fairly rare for a heatwave of this magnitude to get this far north."
Temperatures throughout the region will run 25 to 30F above normal.
The extreme weather just days after the official start of summer signals threats may intensify through the season and challenge officials struggling to deal with growing heat, drought and wildfire risks. Electric grids across the West are forecast to be strained in coming months as hot weather sends power demand surging and drought leaves less water in hydropower reservoirs. California has already had its first threat of supply shortages, less than a year after the first rolling blackouts in two decades.
The drought across the West will make this weekend's heat even hotter because the sun's energy will go mainly into raising temperatures rather than evaporating moisture in the soil, said Bob Henson, a meteorologist and author of The Thinking Person's Guide to Climate Change. Overnight lows are forecast to remain in the low 70s in Seattle, also a record.
"Heat is really going to accumulate in people's houses," Henson said.
Adding to Seattle's discomfort, just 44% of homes there have air conditioning, the least among the top 15 U.S. metropolitan areas, according to data from the Census Bureau's 2019 American Housing Survey.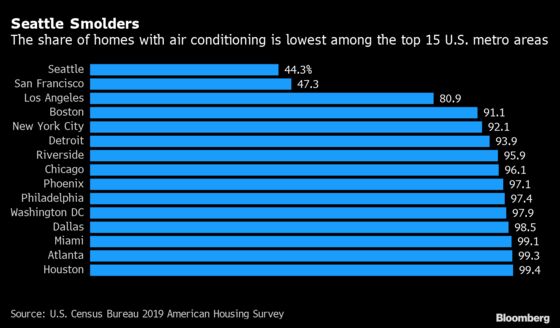 The highs in the Northwest could stress California's supplies as states often trade electricity across borders. Drought across the West is also taxing its reliance on hydro-electric power.
Portland General Electric Co., which provides power to Oregon's largest city and surrounding areas, is encouraging customers to conserve even though it expects to have adequate supplies to meet higher demand, according to spokesperson Andrea Platt.
The Columbia nuclear power plant in Washington, which provides enough power for about 1 million homes, is back in service after shutting down for a scheduled refueling outage. And hydro facilities are at higher summer output levels after a spring spill operation to help fish migrate, according to the Bonneville Power Administration.
California power supplies will be strained most of the summer, said Barbara Clemenhagen, vice president of market intelligence at consulting firm Customized Energy Solutions and a former board member at the Electric Reliability Council of Texas, the grid manager in that state.
"If these temperatures persist through summer, conditions are going to be very tight," she said.