Record Company Debt Binge in South Korea Shows Signs of Slowing
(Bloomberg) -- A record debt binge in South Korea may be nearing an end, a development that could bring more normalcy to a market that like many globally has been swayed by unprecedented stimulus since the pandemic.
Sales of won-denominated corporate notes have decreased 33% this month compared with the same period at the beginning of June. While that's just one data point for a relatively short period, market participants say a slowdown may be sustained.
That's because companies that were rushing to beat a recent surge in borrowing costs have already loaded up on debt, adding to a record 40.7 trillion won ($35.6 billion) of local note sales this year. They'd done so to ride out the pandemic and also as they brace for potential rate hikes by the central bank as early as this half.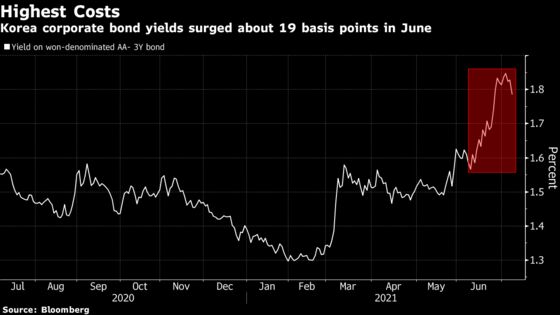 That had pushed up a benchmark index of AA- won-denominated three-year company bond yields by the most last month since October 2017. The surge stood out compared with little change in borrowing costs on investment-grade debt across local-currency markets globally, according to a Bloomberg Barclays index.
"Bond issuance will likely decrease substantially in the second half considering companies have already built cash buffers in preparation for the impact from the coronavirus pandemic and the rate hike," said Kim Eun-gie, a credit analyst in Seoul at Samsung Securities Co.