Record-Breaking Day in Front-End Rates as Fed-Hike Bets Crumble
(Bloomberg) -- A dramatic day across the front end of the U.S. rates curve was backed by record volumes in a number of futures contracts amid crumbling confidence in the Federal Reserve's ability to follow through on its projection of three 2019 rate hikes.
Heading toward Thursday's close, a staggering number of contracts had changed hands across eurodollars and fed fund futures, including record volume in December 2019 eurodollars contracts. Trading was also unprecedented in a number of early-2019 fed funds futures, led by the January contract, in which trading tallied about 300,000 contracts. By 4 p.m. New York time, 1.5 million of the December 2019 eurodollars had traded, easily surpassing the next highest level reached in May during turmoil surrounding Italian bond and European peripheral debt.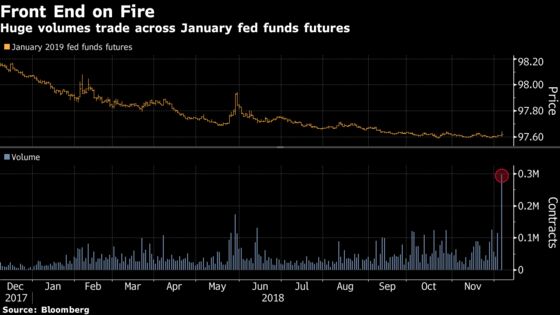 The New York day kicked off with markets in a decidedly risk-off mode after the arrest of Huawei Technologies Co.'s chief financial officer in Canada threatened to sour U.S.-China relations. But that barely seemed half the story as front-end repricing reached fever pitch by mid-morning, causing front-end eurodollar spreads to capitulate.
The shakeout at one point led traders to price out all but 10 basis points of tightening in 2019, and even signal some doubt about a rate hike this month.
Investors' eyes will now be drawn to the open interest data for Thursday's session. The figures may provide clues as to whether short stop-outs and spread unwinds contributed to the record volumes, or whether new positions were formed.