U.S. Consumer-Spending Rebound Cools, Hinting at More Risk Ahead
(Bloomberg) -- The rebound in U.S. consumer spending slowed in July amid a surge in virus cases, and now faces another roadblock after the government cut unemployment benefits.
Household outlays rose 1.9% from the prior month following an upwardly revised 6.2% rise in the prior month, a Commerce Department report showed Friday. That compared with economists' estimates for a 1.6% gain. Personal incomes rose 0.4%, topping expectations for a slight decline.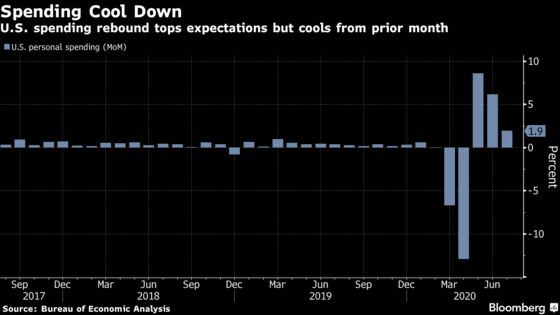 The deceleration in spending -- which accounts for about two-thirds of the economy -- marks a tempering in the economic recovery following two months of stronger gains. While spending has increased in recent months, total outlays remain below pre-pandemic levels. Spending could take a further hit in August after the expiration of the extra $600 in weekly jobless benefits at the end of July, which had propped up incomes and consumption.
"The combination of a rebound in employment plus government transfer payments is keeping household income levels elevated," said Michael Gapen, chief U.S. economist at Barclays Plc. But "August is likely to be a very different month" given the expiration of the supplemental jobless benefit payments at the end of July.
President Donald Trump signed an executive action in early August to provide an extra weekly $300 in federal benefits for most unemployment insurance recipients as a stopgap measure after lawmakers failed to reach agreement on a comprehensive stimulus bill. But pickup of the program will take time. More than half of the nation's states have been approved for the program, but only a handful have actually begun to make payments. Others anticipate it could be weeks before residents see the aid.
What Bloomberg's Economists Say

"The data showed personal spending growth was already slowing significantly from the previous two months, a period when it had rebounded after plummeting amid coronavirus-related shutdowns. The loss of benefits will have a sizable impact on overall income growth, while the yawning gap in wage income has yet to close."

-- Yelena Shulyatyeva and Eliza Winger

Read more for the full reaction note.
A separate report Friday showed U.S. consumer sentiment edged up in late August while remaining well below pre-pandemic levels. Other data showed U.S. imports and exports jumped in July, pointing to a continued stabilization in commerce as global economies start to recover from the pandemic. The merchandise-trade deficit grew to $79.3 billion last month, the widest since late 2018.
U.S. stocks opened higher on Friday, while 10-year Treasury yields and the dollar were lower.
The income and spending report showed wages and salaries rose 1.4% in July, reflecting continued hiring and rehiring in the wake of business reopenings, though the gains slowed from the prior two months.
Meanwhile, the impact of unemployment benefits was clear: Unemployment insurance payments still made up 6.8% of incomes in July, following 7.4% in June.
Adjusted for inflation, real consumer spending rose 1.6% in July following a 5.7% increase in June. Motor vehicles, health care and restaurants and hotels drove the month's gain in outlays, according to the report.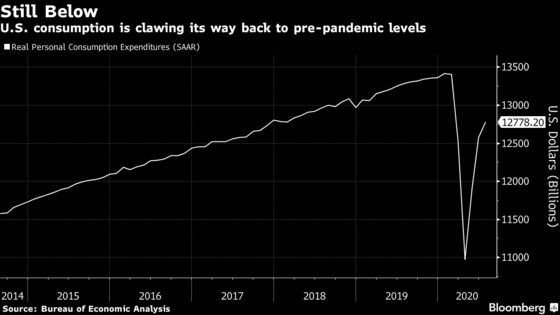 More broadly, the economy is in a precarious state. Jobless claims remain extraordinarily high, the trend in job postings has pulled back in recent weeks and small businesses are looking to further government support. The nation has recouped fewer than half of the jobs it lost in March and April, underscoring that it will take time before the U.S. economy -- and the jobs market -- look anything like they did before the pandemic.
The personal savings rate, which had surged to a record in April as a result of the rise in government social benefits, fell to a four-month low of 17.8%, though that's still more than double February's level of 8.3%.
While Federal Reserve Chair Jerome Powell said Thursday that the central bank will seek inflation that averages 2% over time, current gauges of consumer prices are well below that 2% target. The index of consumer prices that the Fed officially uses for its target rose 1% in July from a year earlier. The core price index, which excludes more-volatile food and energy costs, increased 1.3%.
"Looking ahead, consumption should continue to firm as conditions very slowly normalize," Oxford Economics' Lydia Boussour and Gregory Daco wrote in a note. "But the steep decline in federal support for unemployed workers and heightened uncertainty will depress consumer confidence and spending and weigh on the broader economic recovery."