RBNZ Unlikely to Be Seduced by Strong Second-Quarter Growth
(Bloomberg) -- New Zealand's central bank is unlikely to take an interest-rate cut off the table if economic growth is stronger than it expects in the second quarter.
Gross domestic product data are due on Thursday and the Reserve Bank forecasts expansion of just 0.5 percent in the three months through June, well below the 0.8 percent median estimate of economists in a Bloomberg survey. A strong number could prompt financial markets to reduce bets on a rate cut, but there are several reasons why the RBNZ may choose to disregard such a result.
The bank remains concerned that a slump in business confidence could curb investment and damp economic growth in the medium term. Growth in the previous two quarters also came in weaker than it projected and it may view a positive surprise this time as little more than payback, leaving the overall picture unchanged. Furthermore, the bank is focused on the current quarter, when it wants to see evidence that fiscal stimulus is boosting growth.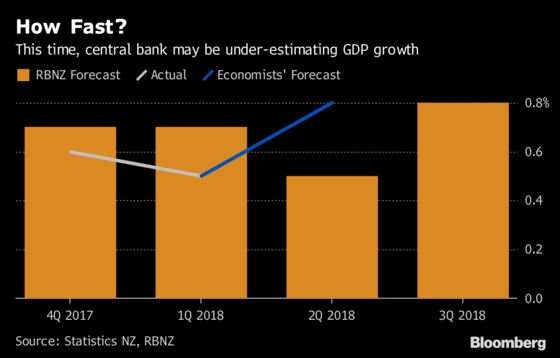 "Regardless of what second-quarter GDP growth does, we anticipate the RBNZ will instead focus on the outlook and continue to emphasize its readiness and willingness to act if weak business confidence does spill over into weaker economic output," said Nick Tuffley, chief economist at ASB Bank in Auckland, who expects growth of 0.9 percent for the second quarter.
The central bank surprised markets and economists with its dovish tilt in August, when it said the chances of a rate cut had increased. Economists forecast annual growth slowed to 2.5 percent last quarter. While that's still a relatively healthy pace, the RBNZ estimates the economy's potential growth rate to be around 3 percent, meaning it's no longer expanding fast enough to generate inflation.
With that in mind, it would take an exceptionally strong quarterly GDP number to assuage the RBNZ's concerns. Conversely, if the outcome was in line with or weaker than the bank's forecast, that may help to build the case for a reduction in the official cash rate to a fresh record low.
Assistant Governor John McDermott last month pinpointed third-quarter GDP as a key piece of data for the bank. It expects the government's increased payments to families, which took effect July 1, to drive growth to 0.8 percent in the quarter. If that acceleration failed to materialize, it would cause the RBNZ "to reconsider where we're at," McDermott said.
Consumer confidence fell to a six-year low in the third quarter, according to an index published by Westpac Banking Corp. on Wednesday.
"These results present a challenge to our expectation that the economy will regain some momentum in the short term on the back of government spending," said Dominick Stephens, chief New Zealand economist at Westpac in Auckland.
He said his forecast for 0.9 percent growth in the second quarter had a lot to do with one-offs. While a strong outturn would make a rate cut less likely in the near term, it wouldn't alter the chances of monetary easing further down the track.
"At the moment we'd give it a one-in-three chance of a cut, even if we get 0.9 percent GDP growth in the second quarter," Stephens said.