New Zealand Is Poised to Cut Interest Rates as the Economy Cools
(Bloomberg) -- Go inside the global economy with Stephanie Flanders in her new podcast, Stephanomics. Subscribe via Pocket Cast or iTunes.
New Zealand's central bank may cut interest rates to fresh historic lows as the economy cools and inflation falls further below target.
Since Governor Adrian Orr adopted an explicit easing bias in March, key economic data have come in weaker than expected, giving the Reserve Bank the conditions it needs to justify lowering rates on Wednesday. Doing so would make the RBNZ one of the only central banks in the developed world to be loosening policy, which should exert downward pressure on the New Zealand dollar and boost the inflation outlook.
In an interview with Bloomberg last month, Orr confirmed that a rate cut in May was possible, but he also said it was a difficult decision and there were some reasons not to act, such as a shortage of skilled labor and record export prices. Fourteen of 20 economists in a Bloomberg survey expect the official cash rate will be lowered a quarter point to 1.5 percent, while markets put the chance of a cut at about 40 percent.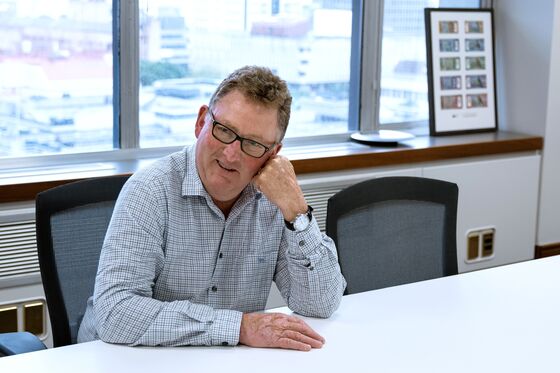 "It's a nail-biting decision and frankly we're very, very uncertain about it, but we think it's slightly more likely that they'll cut the OCR," said Dominick Stephens, chief New Zealand economist at Westpac Banking Corp. in Auckland. "The Reserve Bank for some time has been relying on the idea of a major pickup in economic growth to restore inflation to 2 percent. That pickup just has not happened, at least to date, and I get the feeling they're running out of patience."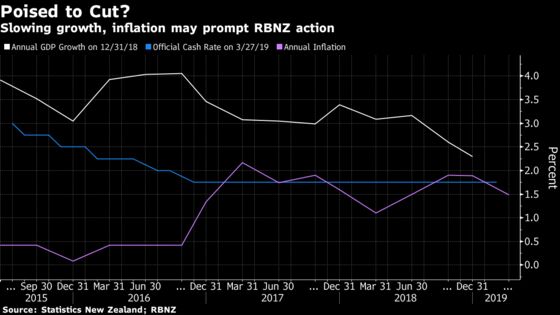 The RBNZ will publish its decision at 2 p.m. in Wellington tomorrow alongside a full Monetary Policy Statement with new forecasts for inflation, growth and the OCR. Orr holds a press conference one hour later. Australia's central bank left rates unchanged today even though a slim majority of economists expected it to lower them.
For the RBNZ, it's the first decision to be made by an enlarged policy committee comprised of four internal and three external members plus a non-voting Treasury observer. A record of the meeting will be published outlining key themes in the committee's deliberations. It will reveal unattributed voting if consensus wasn't reached.
New Zealand's economy has cooled, with annual growth slowing to 2.3 percent last year from 3.4 percent in 2017. Renewed fears about a trade war between the U.S. and China, which could hurt global growth, are also clouding the outlook.
Two pieces of data have boosted rate-cut bets in recent weeks. The inflation rate fell to 1.5 percent in the first quarter and hiring unexpectedly declined. Still, inflation expectations held steady near the RBNZ's 2 percent goal in the second quarter, according to a survey published by the central bank today.
Under its new dual mandate, the RBNZ is required to aim for the mid-point of its 1-3 percent inflation target and contribute to maximum sustainable employment.
Economists at Bank of New Zealand said the latest data weren't soft enough to warrant cutting rates.
"There is no sign that the economy is about to tank any time soon, interest-rate settings are already highly stimulatory and there is still risk on the other side of the equation, i.e. inflation pressures are still there in spades," said Stephen Toplis, head of research at BNZ in Wellington. "If the bank is to be pushed over the edge, we think that waiting until August would be a wiser option."
But there are risks in delaying too, said ASB Bank Chief Economist Nick Tuffley.
"Much of the reason for the weaker New Zealand dollar of late has been due to expectations of OCR cuts and by not validating this, the RBNZ risks putting a rocket under the kiwi," he said. "It is probably better to run the risk of pushing inflation higher than not cutting the OCR and persistently dampening inflation and inflation expectations."