RBNZ Policy Maker Says Low Interest Rates Protect Workers
A New Zealand central bank policy maker has pushed back against claims that record low interest rates are widening social inequalities by driving up house prices, saying they are also keeping people in work.
"The best social policy program ever invented was employment," Peter Harris, an external member of the Reserve Bank's Monetary Policy Committee, said in an interview Wednesday in Wellington. "Lower interest rates have also contributed to higher employment and more stable incomes."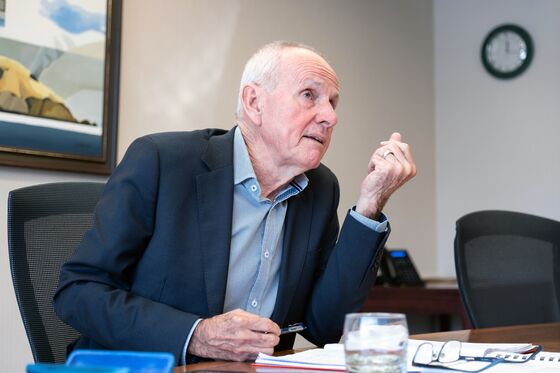 The RBNZ has been accused of contributing to a widening gap between rich and poor as its ultra-loose monetary policy helped drive a 24% surge in house prices over the past year, locking many first-time buyers out of the property market. The government has instructed the central bank to take housing into account when it sets policy, but Governor Adrian Orr has insisted the RBNZ's inflation and employment objectives remain unchanged.
Harris, speaking ahead of the MPC's second anniversary next month, said low borrowing costs were just one of a number of factors behind the boom in asset prices, which was occurring globally. Higher rates could worsen inequality by denting confidence, driving up unemployment and raising mortgage servicing costs, Harris said.
"Are people better off out of a job and owning a house and paying a high interest rate on their mortgage, or are they better off when employment is reasonably robust, where incomes are stable and mortgage interest costs are lower?" he asked.
The RBNZ has cut its cash rate to 0.25% and embarked on quantitative easing to nurse the economy through the pandemic. Harris, speaking in the first interview to be given by an external MPC member, reiterated that the committee is in no rush to remove stimulus.
"We think that finance markets are functioning okay with the asset purchase program, interest rates are keeping low with the Funding for Lending Program," he said. "We took a position of least regret, so we'd rather that we slightly overshot given the uncertainties that are around than undershoot."
Harris said there are also signs that the economic recovery is stalling after a V-shaped rebound last year as the impact of the government's massive fiscal stimulus, which was implemented much faster than anyone anticipated, starts to wane.
"So that raises the question -– was it a sugar burst? Because there are some indications that after that big kick back the economy has to some extent moved sideways," he said. "There are indications of things leveling off a bit, and that always raises the question is that before another dip?"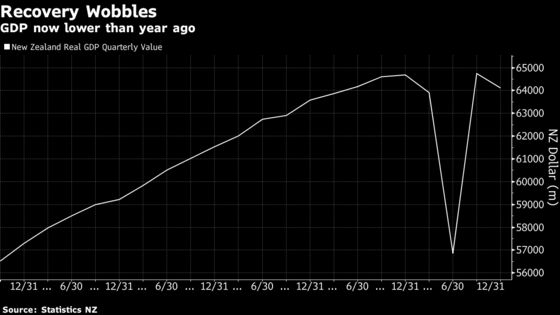 The RBNZ's policy committee was expanded to seven in 2019 with the aim of getting a greater diversity of views around the table. Harris, one of three external members, brings expertise in the labor market after a long career as a trade union economist.
While the economy has performed better than anyone expected, Harris said unemployment at 4.9% remains "relatively high" and the RBNZ is not yet meeting its employment objective.
"The MPC's assessment is that employment is still below its maximum sustainable level, we're not on target yet," he said.
Asked how the bank would know when employment was at target, Harris said it uses "a suite of indicators." It doesn't have an explicit target for the jobless rate, which has been as low as 4% in recent years.
"You couldn't be comfortable that 4% is good if you had high levels of unemployment in (the province of) Northland, or among Maori, or among youth," he said. "So I think you've got to look at the broad range of indicators that give you comfort that employment is at a sustainable level and that it's as good as you can get it."
New Zealand's closed border had led to skills shortages in some areas, particularly in seasonal jobs, but these are unlikely to spur wage inflation, Harris said.
"There's a little bit of pressure on the wage front, but you don't raise the general level of wages to deal with 1 or 2% shortage at the margins," he said. "On the seasonal employment stuff, again there might be a degree of wage pressure, but we're not seeing it in any material way."
Harris, once an advisor to former Labour Party finance minister Michael Cullen, has embraced the current Labour government's reforms of the Reserve Bank, which included handing it a Fed-style dual mandate in 2018.
He never supported the RBNZ's sole focus on inflation, which saw it lauded as a pioneer in the 1990s, arguing that "a sensitivity to employment has to be a big part of the decision-making framework."
"The single mandate is now an historical anachronism," Harris said.
While the committee focused initially on operationalizing the new dual mandate, the pandemic forced it into a period of "dynamic adaptation," he said.
"We had to be able to respond quickly, and we had to be able to respond with additional instruments. That was accomplished I think quite effectively," Harris said. "Any doubts you can't function with a committee, that it's too cumbersome, were dispelled."