RBNZ Holds Key Rate at Record Low, Keeps Door Open to Cut
(Bloomberg) -- New Zealand's central bank held interest rates at a record low and signaled it's prepared to cut them if the economy fails to gather pace.
Reserve Bank Governor Adrian Orr left the official cash rate at 1.75 percent Thursday in Wellington and reiterated he expects to keep it there through 2019 and into 2020. "The direction of our next OCR move could be up or down," he said, adding there are still downside risks to the growth outlook.
Orr surprised markets with a dovish tilt in August, pushing out the horizon for a policy tightening and saying rates could fall if gloomy business confidence hurts investment and curbs economic growth. Still, investors reduced bets on a rate cut last week when data showed gross domestic product increased 1 percent in the second quarter -- the strongest growth in two years and twice the pace projected by the central bank.
The RBNZ today "showed a slightly greater degree of caution about the path forward," said Nick Tuffley, chief economist at ASB Bank in Auckland. "The near-term risks are skewed still towards a lower OCR, primarily if growth does not live up to RBNZ expectations."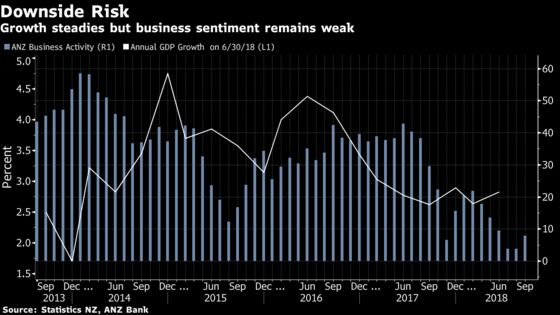 The currency has dropped 8.5 percent the past six months as the RBNZ stands pat while other central banks raise borrowing costs. Earlier, the U.S. Federal Reserve increased rates for the third time this year, taking its benchmark above the RBNZ's for the first time since 2000, and reaffirmed its outlook for further gradual hikes.
"Robust global economic growth and a lower New Zealand dollar exchange rate is expected to support demand for our exports," Orr said. "Global inflationary pressure is expected to rise, but remain modest."
All 18 economists surveyed by Bloomberg expected today's decision, and most forecast the OCR will remain at 1.75 percent until the second half of 2019. There is a 23 percent chance of a reduction by June next year, according to swaps data compiled by Bloomberg, little changed from Wednesday.
What Our Economists Say...

"The Reserve Bank's neutral policy bias is consistent with its balanced risk assessment. On the one hand, below-potential growth could persist. On the other hand, cost pressures could pass through into higher prices and inflation expectations."

-- Tamara Mast Henderson, Bloomberg Economics

For more, see our New Zealand Insight
Analysts are closely watching business confidence gauges and other indicators to assess whether economic growth will meet the RBNZ's expectations in the second half of the year.
Assistant Governor John McDermott last month said the bank expects the government's increased payments to families, which took effect July 1, to bolster growth in the third quarter. If that impact failed to materialize, it would cause the RBNZ "to reconsider where we're at," McDermott said.
"Our projection for the New Zealand economy, as detailed in the August Monetary Policy Statement, is little changed," Orr said today. "Our outlook for the OCR assumes the pace of growth will pick up over the coming year" which will assist inflation to return to the mid-point of the 1-3 percent range it targets, he said.
Consumer prices rose 1.5 percent in the year ended in the second quarter. In its May projections, the RBNZ predicted inflation would lift to 1.6 percent by the end of 2018 but wouldn't reach 2 percent until the first quarter of 2021.
"There are welcome early signs of core inflation rising towards the mid-point of the target," Orr said. "Consumer price inflation is expected to gradually rise to our 2 percent annual target as capacity pressures bite."
The RBNZ is making decisions under a dual mandate of supporting maximum sustainable employment as well as achieving price stability, which was introduced in March. The jobless rate rose from a nine-year low in the second quarter to 4.5 percent.
"Employment is around its sustainable level and consumer price inflation remains below the 2 percent mid-point of our target, necessitating continued supportive monetary policy," Orr said. "We will keep the OCR at an expansionary level for a considerable period."