RBC's Calvasina Boosts 2021 S&P Forecast, Says to Buy Coming Dip
(Bloomberg) -- RBC Capital Markets LLC's Lori Calvasina boosted the investment bank's year-end target on U.S. equities to 4,500 from 4,325 but with one stark warning: a major pullback is on the horizon.
Still Calvasina, the firm's head of U.S. equity strategy, believes "this is a dip you want to buy," particularly for long-term investors. "I see the case for some short-term earnings problems that will have to be digested. How bad they're going to be is TBD," she said Tuesday in an interview on Bloomberg TV's "The Open" program.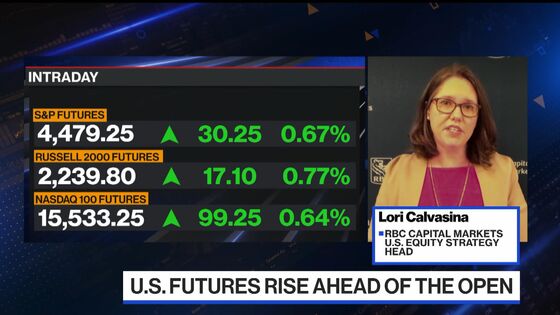 The fresh call from RBC -- which also includes the introduction of its 4,900 target for 2022 --follows other target raises on Wall Street as the S&P 500 index has set upwards of 50 record highs this year alone. It's around 4,470 in trading early Monday.
Admittedly, Calvasina said "we've been worried about a pullback for a while" despite the steady climb in the popular gauge. She warned that "if an economic recession is off the table, you're not going to get a true growth scare in this market." And there's little case for a downturn of that magnitude at the moment, she added.
"At the end of the day, we know as longer-term investors what we want to do when we get 10% declines in the market -- you always kick yourself if you don't buy them -- so we're trying to move the conversation forward and say buy it," said Calvasina.