Australia's Central Bank Warns of Heightened Trade-War Risk To Economy
(Bloomberg) -- The risks of international shocks hitting Australia's otherwise resilient financial system are growing, the Reserve Bank warned on Friday.
The nation's overall financial strength has improved, with the major banks' capital positions around 50 percent higher than a decade earlier and tighter mortgage lending standards reducing risk. Ultimately, the ongoing Royal Commission into banking industry misconduct will "contribute to a more resilient financial system," it said.
However, the central bank outlined concerns about the potential impact of global shocks on the economy, citing an escalation of the trade war, a slowdown in Chinese growth, contagion from emerging market economies and the escalation of banking and sovereign debt problems in Italy.
Downside risks to global growth "have become more prominent," the central bank said in its twice-yearly Financial Stability Review. "Increasing trade protectionism poses a threat to the outlook."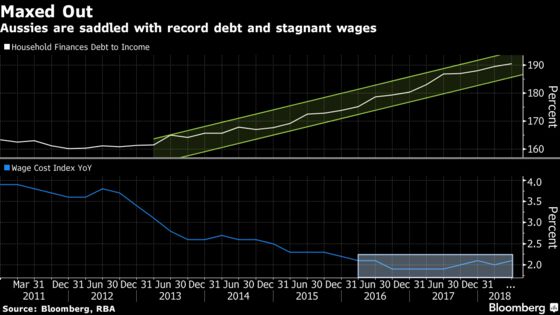 Its warnings echo those of the International Monetary Fund, which said this week the world economy is plateauing and cut its growth forecast for the first time in more than two years, blaming escalating trade tensions and stresses in emerging markets. Fresh concerns about a trade war with China and rising interest rates helped spark a global markets rout this week, with Asian markets selling-off sharply following a slump in the U.S.
"Australia would be sensitive to a sharp contraction in global growth or dislocation in global financial markets because of the importance of trade and capital inflows," the RBA said. "In the current environment, a range of possible triggers could precipitate a global economic downturn."
Domestically, the central bank lists three key vulnerabilities for Australia's financial stability:
Australia has among the world's highest household debt levels, a legacy of years of explosive housing price growth. While the RBA said that this debt appears mainly to be owned by those able to repay it, there is the risk that highly indebted households would cut back consumption if their financial positions became less secure.
Consumption accounts for almost 60 percent of Australia's gross domestic product, making any reversal of the wealth effect important for the overall economy.
Housing Slowdown and Credit
After a five-year boom, house prices in Australia have fallen for 12 consecutive months due to stricter lending standards and stretched affordability. The RBA says it believes this slowdown is a "positive development for financial stability," however risks remain that a sharp slowdown would push borrowers into negative equity.
The RBA rejects suggestions of a widespread credit crunch, saying that the overall impact of tighter lending standards has been moderate. "Only those most risky borrowers have actually been constrained by the tightening in lending standards, as most borrowers take out loans well below the maximum that are offered by lenders," it says.
The RBA also highlighted the impact of ongoing inquiries into misconduct in the banking system on the nation's major lenders. The interim report of the so-called Royal Commission criticized a runaway culture of greed and poor behavior and said the banks had pursued profit at the expense of basic honesty.
While the financial consequences so far have been "small", the central bank warns "the consequences of reputational damage could impair banks' profitability and resilience."