Australia's Central Bank Reaffirms Next Move Likely Up
(Bloomberg) -- Australia's central bank warned on risks to its outlook from U.S.-China trade tensions and weak wages, while reaffirming its next interest-rate move would likely be a hike.
"Significant tensions" around trade policy are a "material risk" to the global outlook, it said in minutes of the September policy meeting released Tuesday in Sydney
Unemployment is expected to decline gradually toward 5 percent and wage growth is expected to increase gradually as spare capacity in the labor market is absorbed
GDP growth likely to remain "above potential" through the forecast period and inflation is "likely to increase over time"
The minutes reiterated there was "no strong case" for a near-term adjustment to monetary policy
The Reserve Bank of Australia has kept rates steady for the past two years as it seeks to play an anchor role in the economy and generate confidence among firms. The strategy is slowly paying dividends as hiring and economic growth strengthen. But like much of the developed world, wage gains and inflation remain limited, and with spare capacity in the labor market still present, that seems unlikely to change rapidly.
A swing factor could be a decline in the currency, currently hovering in the low 70s; a fall into the mid-60s would stimulate exports and hiring and potentially accelerate inflation back to the mid-point of the RBA's 2 percent to 3 percent target.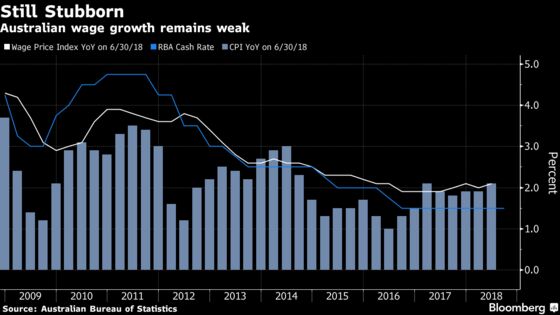 "The modest depreciation in the Australia dollar was helpful for domestic economic growth"
"Drought conditions in some parts of Australia were expected to result in lower overall rural production and exports," the RBA said, while noting a record crop was expected in Western Australia. The higher probability of El Nino suggested prospects for rain had fallen in the near term, which was likely to "increase the magnitude of any fall in farm output from the farm sector"
Recent mortgage rate increases by some Australian banks would likely unwind "about half of the decline observed in the average housing loan rate over the preceding year"