RBA Sees First Rate Hike in 2024 as Wage Growth Sluggish
(Bloomberg) -- The Reserve Bank of Australia struck an upbeat note on the economy, while maintaining that faster wages growth and inflation will take some time and the first interest-rate increase is unlikely before 2024.
The economy will expand 3% this year, despite a likely sharp contraction in the third quarter due to virus lockdowns, and then accelerate to 5.5% in 2022, the RBA said in its quarterly update of forecasts Friday. It sees wage growth of 3% and inflation at the 2.5% midpoint of the central bank's target by end-2023.
"A rapid trajectory of recovery from the recent setback seems increasingly likely," the RBA said. "Depending on the trajectory of the economy at that time, the board judges that this outcome could be consistent with the first increase in the cash rate being in 2024."
The Australian dollar fell after the report and was trading at 73.87 U.S. cents at 1:38 p.m. in Sydney. Australian three-year yields fell 7 basis points to 0.90%, set for their biggest weekly drop in a decade, as traders pared bets for the pace of RBA rate hikes.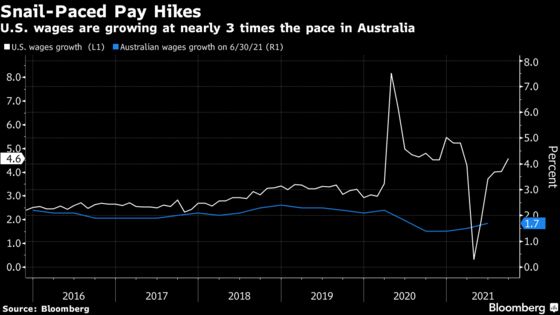 The central bank's rate assessment is a further push back against market pricing for a tightening cycle to begin next year. The RBA did concede that there was a plausible scenario in which wages and consumer prices grew faster than expected and a 2023 rate hike was needed, but it dismissed the prospect of an increase in the next 12 months.
"The RBA has upgraded its economic forecasts but they are still cautious on the inflation and wage outlook," said Belinda Allen, a senior economist at Commonwealth Bank of Australia, which expects the first hike to come in November next year. "We have a slightly more optimistic view." 
Swaps traders see the first increase to the cash rate -- currently a record-low 0.1% -- coming by June or July of 2022. Markets now see the cash rate at 0.75% within a year, after projecting it at 1.2% in trades at the end of last week.
In its central scenario, the RBA sees wages accelerating to 2.25% at the end of this year, reaching 2.5% in 2022 and 3% in late 2023 -- which would be the fastest pace since 2013, today's Statement on Monetary Policy said. Inflation was seen at 2.25% through to mid-2023 before edging up to 2.5% in December of that year. 
The RBA's upside scenario shows unemployment tumbling to 3.25%, sparking a strong recovery in wages and spurring inflation above 3% by end-2023.
"If this were to eventuate, an increase in the cash rate in 2023 could be warranted," the RBA said. "However, in the board's view, the latest data and forecasts do not warrant an increase in the cash rate in 2022."
Australia's strong vaccine take-up has allowed for an earlier-than-expected reopening in Sydney and Melbourne from virus lockdowns. The RBA cited that, and faster third-quarter inflation, to explain its decision at Tuesday's meeting to drop a yield target on the April 2024 government bond.
Australia's central bank, like counterparts around the world, is grappling with whether a recent acceleration in inflation is temporary, amid uncertainty over how long supply-chain disruptions will last and how labor markets will respond to a reopening of borders.
Allen said the reopening of the international border would boost labor supply. 
"So there is that risk that we don't see the unemployment rate falling enough to generate wage pressures," she said.
The forecasts, which the RBA said were finalized after Tuesday's policy meeting, are based on technical assumptions including market pricing for the cash rate. That factors in three hikes over the next 12 months and sees it reach 1.5% at the end of 2023. 
Policy makers are due to decide in February whether to further taper their quantitative easing program, which is currently running at A$4 billion (A$3 billion) a week.