RBA Says It's Prepared to Cut Again as Inflation Remains Weak
(Bloomberg) -- Australia's central bank reiterated that it's prepared to cut interest rates further as subdued household income and consumer spending mean inflation will take longer to return to its elusive target, in the RBA's quarterly Statement on Monetary Policy released in Sydney Friday.
Key Forecast Revisions:
Core inflation will be around 1.75% next year and reach the bottom of the RBA's 2-3% target by June 2021, a year later than projected in May
Unemployment will be around 5.25% through 2020 and fall to 5% by June 2021, two years later than projected in May
GDP growth will be slightly lower this year, at 2.5% versus previous estimate of 2.75%
Click here for the RBA's growth and inflation forecasts, and here for additional economic projections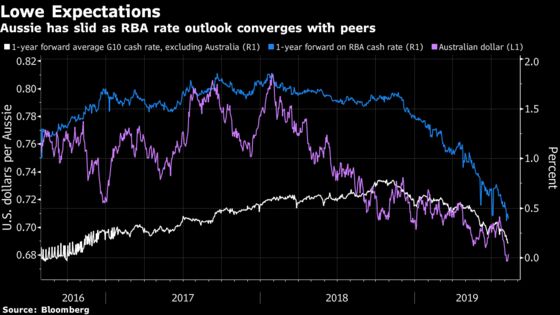 The RBA is sounding less confident about the immediate outlook, warning that near-term risks to domestic growth and inflation are more to the downside. Further out, however, it says the risks around forecasts for the next few quarters are "more balanced."
The U.S.-China trade war looms heavily in the backdrop, with the central bank saying that the "considerable uncertainty" about future tariff measures is weighing on investment intentions the world over and poses a "significant risk" to the global outlook.
As a result, the RBA revised its estimate of major trading partners' growth down to around 3.75% over the forecast period, "noticeably lower" than its projections in 2017 and 2018
There's scant optimism around wages growth, with the RBA saying "there is now less certainty" around forecast increases, which have been slightly downgraded. It sees "little upward pressure" from labor market conditions and most of the companies it speaks to expect little change over the next year.
On the sharp falls in iron ore since the start of August, the RBA warns that prices are "expected to decline further" as supply gradually comes back on line and Chinese demand moderates. However, it sees "considerable uncertainty" around the outlook.
The RBA reiterated recent comments on the outlook for policy, saying it "is prepared to ease monetary policy further if needed to support sustainable growth in the economy and the achievement of the inflation target over time."
The cash rate is currently at a record low 1% following back-to-back cuts in June and July. Friday's updated forecasts were based on current market pricing that assumes two more 25bps reductions.
The forecasts were released as Governor Philip Lowe appeared before a parliamentary panel in Canberra. Read more about his testimony here.