RBA's No. 2 Debelle Reappointed, Setting Him Up to Succeed Lowe
Australia's government reappointed Reserve Bank No. 2 Guy Debelle for another five-year term, setting him up to succeed Governor Philip Lowe when he eventually retires from the top role.
Debelle, 54, will begin his new stint on Sept. 18, meaning he will be in place in September 2023 when Lowe's seven-year term expires. He will also remain available if the governor opts for a three-year extension, as his two predecessors did.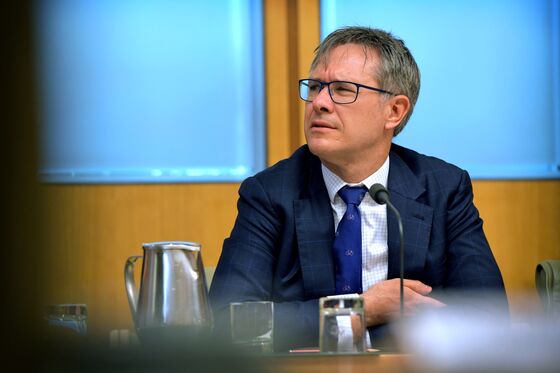 "Dr. Debelle has been the deputy governor of the RBA and deputy chair of the RBA board since 2016 and has provided strong economic leadership, particularly in helping to steer the board's response to the Covid-19 pandemic," Treasurer Josh Frydenberg said in a statement Wednesday.
Debelle rose to prominence during the 2008 global financial crisis when as assistant governor in charge of financial markets he spearheaded Australia's response to the fallout from the collapse of Lehman Brothers Inc. Known for his love of live music, he plays electric guitar and has sometimes fronted the central bank's house band, "the GFC."
Debelle graduated from the University of Adelaide with a degree in economics and joined the RBA in 1994. He's worked at the International Monetary Fund, the Bank for International Settlements, the Australian Treasury and as a visiting professor in economics at the Massachusetts Institute of Technology. Like Lowe, Debelle gained his doctorate at MIT and studied under Stanley Fischer and Rudi Dornbusch.
He is currently chair of the RBA's Risk Management and Investment Committees and the Global Foreign Exchange Committee.
Ian Harper, one of six independent directors on the RBA's board, was also reappointed today. Harper's second five-year term begins at the end of this month.