RBA's Lowe Reiterates Jobless Rate in 'Low 4s' Is Full Employment
Reserve Bank of Australia chief Philip Lowe highlighted the importance of achieving sustained full-employment "in the low 4s" to fuel wage growth, a necessary factor for reviving inflation Down Under.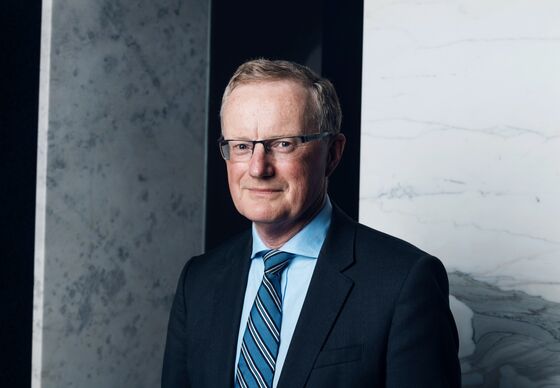 In a speech setting out the central bank's latest thinking on the relationship between unemployment and wage growth, Lowe also reiterated that any decision on interest rates will be driven by economic data, not the calendar.
A key takeaway from his comments on the labor market is his view that firms hiring offshore to deal with bottle-necks had helped limit pay gains.
"This hiring dilutes the upward pressure on wages in these hotspots and it is possible that there are spillovers to the rest of the labor market," Lowe told the Economic Society of Queensland via an online Webinar Thursday.
"In my view, this is one of the factors that has contributed to wages being less sensitive to shifts in demand than was once the case," he said.
The RBA is trying to push unemployment down toward 4% to try to spark wages growth across the economy and return inflation to its 2-3% target. The central bank sees the current monetary and fiscal injection as the best chance to return price gains to more normal levels and rebuild policy rate firepower for future downturns.
Responding to questions after the address, the governor said the reopening of Australia's borders is a "first-order issue" for the economy's outlook.
In the event that borders remained shut for longer, this could exacerbate already emerging labor shortages and speed up wage gains, but likely at the expense of investment, Lowe said.
He said he expects borders will gradually re-open and firms will get some relief in areas where they're really struggling to find local employees.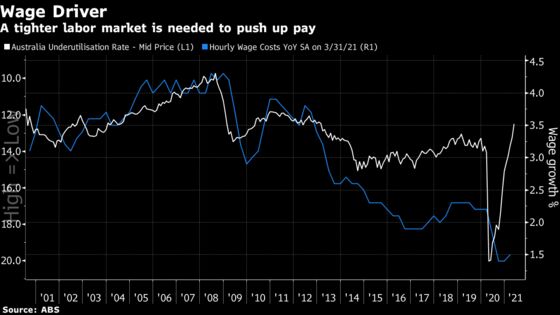 In his speech, Lowe reiterated some of his views from Tuesday's rate meeting, when the bank chose not to extend the horizon of its three-year yield target and pared back its quantitative easing program.
"The condition for an increase in the cash rate depends upon the data, not the date; it is based on inflation outcomes, not the calendar," he said, adding that the RBA expects it will take until 2024 for inflation to be sustainably within the target range.
"The second is that the step-down in the RBA's bond purchases from A$5 billion to A$4 billion a week does not represent a withdrawal of support by the RBA," he added.