RBA's Harper Says Australia 'Way Off' an Asset-Price Bubble
Reserve Bank board member Ian Harper said Australia's unemployment is too high and the economy has too much lost activity for monetary stimulus to be fueling excessive stock and property valuations.
"The tendency of this to produce an asset-price bubble is way off where we're presently headed," said Harper, one of six independent directors on the RBA board, giving his personal views in an interview with Bloomberg News. "There's still plenty of excess capacity in the economy."
Harper's remarks indicate that the RBA is in no hurry to call an end to its recently extended quantitative easing program on the current basis of asset prices. The speed of the economy's recovery both locally and globally and actions by other central banks are the main factors that will determine whether the program is extended again, he said.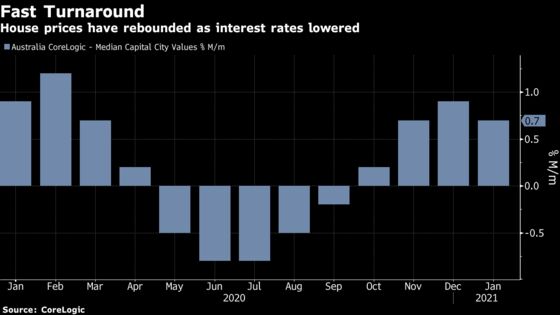 Australian home price gains have gathered pace in recent months, setting the scene for another year of strong increases as record-low interest rates and a rapid recovery from the coronavirus-induced recession spur demand.
Harper said in the current circumstances, policy makers want asset prices to be increasing as it would likely speed up investment -- necessary for a sustained economic recovery. With unemployment at 6.6% and gross domestic product still below its end-2019 level, he saw little danger of asset inflation getting out of hand.
The RBA this month extended its quantitative easing program by a further A$100 billion ($77.4 billion). Governor Philip Lowe reaffirmed that the bank is highly unlikely to shift to negative rates, and as a result bond-buying is the main instrument for stimulus.
Asked whether there was a limit to QE, Harper said "the bank can continue to buy bonds for as long as it likes, there's no obstacle to that."
Harper said the flexibility of Australia's policy framework serves it extremely well, countering the view that the RBA should follow counterparts, such as the Federal Reserve, in conducting a formal review of their policy frameworks.
"The recent changes that the Fed made, well that was to bring them up to where we are basically," he said. "We've never religiously or rigidly interpreted the timeframe over which we would seek the inflation rate to be within the target band."
The RBA has a triple mandate: price stability, full employment and the prosperity and welfare of the Australian people. Harper said the original policy drafters "deserved a medal" for their foresight.
As for recent criticism from lawmaker Andrew Leigh, a Harvard-trained economist, that the RBA board lacked academic expertise, Harper backed Lowe's rejection of that charge.
Harper said that of the nine board members, the governor and his deputy had PhDs from Massachusetts Institute of Technology and Treasury secretary Steven Kennedy and himself have PhDs from Australian National University. So there's no shortage of academic expertise.
The non-economist members, he added, "bring a breadth of experience and judgment" from their roles as senior executives in the economy.
"So at the end of the day, we have our discussion and then there's a vote," Harper said. "And it's not always unanimous, let's just put it that way."