Australia's Economy Powers Into 2022, Raising Pressure on RBA
(Bloomberg) -- Australia is poised to power into 2022, increasing pressure on the Reserve Bank to unwind its vast stimulus program and delivering a tailwind to the conservative government in its bid for a come-from-behind election win.
Bond yields surged Thursday after the economy recorded its largest monthly jobs gain. Just an hour earlier, Governor Philip Lowe delivered an upbeat speech in which he acknowledged faster progress on employment and inflation could see the central bank end its bond buying program at a February review.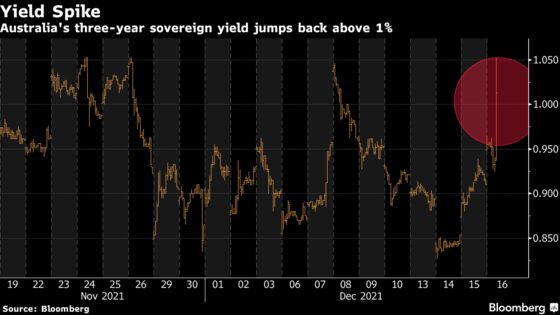 Lowe also spoke just hours after the Federal Reserve accelerated its taper in preparation for interest-rate increases next year. Money markets are pressuring Australian policy makers to follow suit: they're pricing in three hikes in 2022.
Su-Lin Ong, head of Australian economic and fixed-income strategy at Royal Bank of Canada, said the governor's address today "erred hawkish in our view." She reckons the quantitative easing program is likely to be abandoned at the February meeting
If so, the RBA's "biggest challenge will be convincing the market that rate hikes are still likely some way off especially as the same timeframe in the U.S. will be sharply condensed," Ong said.
Lowe, responding to a question after his speech Thursday, acknowledged that the decisions of central banks abroad would be a factor in the board's thinking.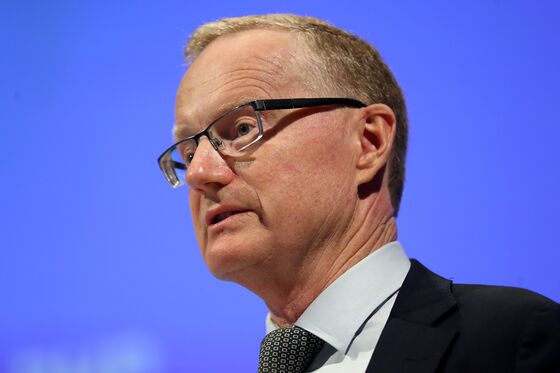 "We were very much influenced by the actions of other central banks. At the margin if they stopped doing this then it increases the probability that we will stop as well," Lowe told an audience in the regional town of Wagga Wagga, where he grew up. "But if we think it's the right thing to keep going we will." 
The government also got in on Thursday's action, releasing its mid-year budget update that saw its books take a battering from lockdowns along the east coast, yet still managed to show a slightly narrower deficit.
Treasurer Josh Frydenberg predicts the economy will generate 1 million jobs through mid-2025 and growth accelerate, noting household consumption is increasing at the fastest pace in more than two decades. 
That's good timing for a government that's trailing the opposition in opinion polls as it tries to win a fourth term in an election due by May.
In a press conference after the release of the budget update, Frydenberg could've been channeling Lowe when he responded to a question on labor shortages by saying that workers receiving higher pay was good news for the economy. Lowe has pushed for wage rises almost since taking the RBA's helm.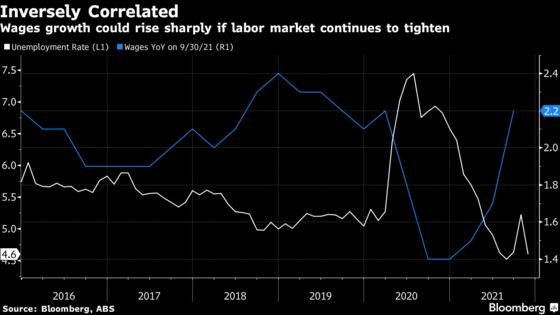 But the governor expects it to take time for inflation to gather steam Down Under, unlike the U.S. He's trying to push the jobless rate to 4% to set off wage gains to fuel consumer price growth.
He would've been pleased with the November jobs data that showed 366,100 roles and unemployment falling to 4.6% from 5.2% even as labor market participation jumped.
Still, Lowe expects it will take some time for across-the-board salary rises due to the nation's wage setting processes that create "inertia" in pay outcomes.
That's why he reiterated that rate liftoff is unlikely next year, expecting it will take some time until inflation sustainably returns to the RBA's 2-3% target.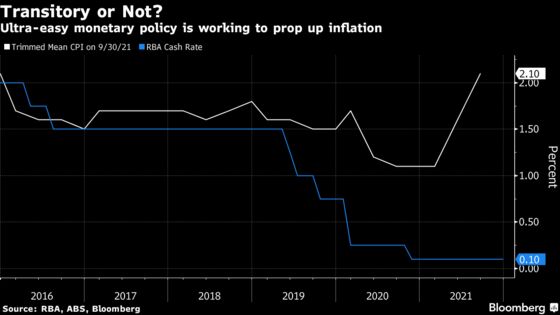 And while Lowe had a positive spin, pointing out that spending has bounced back quickly after virus lockdowns were lifted in the country's populous east coast, he flagged the latest coronavirus variant as a reason for caution. 
"The Omicron outbreak does, though, represent a downside risk and it is difficult to know how things will develop from here," Lowe said.