RBA Climbdown Shows BOJ Market Challenges of Yield Control Exit
The Reserve Bank of Australia's abrupt ditching of its bond target shows the Bank of Japan and other central banks the difficulty of maintaining a yield goal when market momentum builds.
With inflation heating up around the world, movements in bond markets have put pressure on policy makers to rethink their timelines for paring back pandemic stimulus.
As price growth is still barely above zero in Japan in contrast to the rest of the world, analysts don't see the BOJ dropping its yield curve control anytime soon. But the lessons for the BOJ from Down Under are that central banks can't keep markets where they want them indefinitely and that a smooth exit can be difficult to achieve.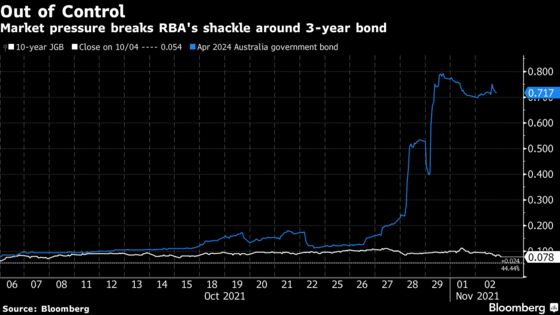 "Markets start to price in the move before an actual decision is made and it can quickly get out of control," said Yoshimasa Maruyama, chief market economist at SMBC Nikko Securities. 
That's what happened in Australia after a resurgence in inflation caught the RBA flat-footed last week and three-year yields shot up to eight times the target rate without the bank taking action.
"I think the RBA was underestimating the power of market," said Yasunari Ueno, chief market economist at Mizuho Securities. "They could have conducted an unlimited bond buying operation but they didn't. Their resolve was lukewarm."
The BOJ's very occasional use of unlimited buying at fixed rates has helped maintain sufficient fear among market participants that they can't cross certain lines. Still, the bank has gradually increased the permitted movement range for 10-year yields to a quarter percentage point either side of zero to ensure it isn't in a constant battle with market forces.
"The RBA provides a good study case for the BOJ. It illustrates the challenges of trying to exit without triggering huge volatility in markets," said Yuichi Kodama, chief economist Meiji Yasuda Research Institute. 
Kodama says the BOJ faces a far more complicated exit than the RBA because it has a short-term rate and a long-term target and also a commitment to overshoot inflation. The takeaway is that keeping clear communication with markets is key, he added.
"The fact the RBA scrapped yield curve control doesn't necessarily mean it's ineffective as a tool," Maruyama said. "Still, officials at the Fed are probably smiling, thinking they were right not to adopt it."