Rates Traders Are Less Rosy Than White House About U.S. Outlook
(Bloomberg) -- The U.S. rates market's outlook for the American economy is less rosy than the view from the White House Rose Garden.
U.S. President Donald Trump paid tribute at a press conference to the "great numbers" in the latest gross domestic product report and called the economy's growth trajectory "very sustainable." Treasury yields fell in the wake of the data, however, and the curve flattened. Traders wagering on the trajectory of the federal funds rate appear unconvinced that growth and inflation will remain strong enough to allow for the kind of tightening that even the central bankers themselves are projecting.
The majority of Federal Reserve members foresee another two increases, or 50 basis points of tightening, this year. But fed funds futures are pricing in only around 42 basis points at this stage. The so-called dot-plot from the Fed also indicates that officials expect to continue lifting rates into 2020, although the eurodollar market indicates investors are more dubious. The spread between December 2019 and December 2020 contracts flirted with zero again Friday, having previously turned negative for the first time earlier this month.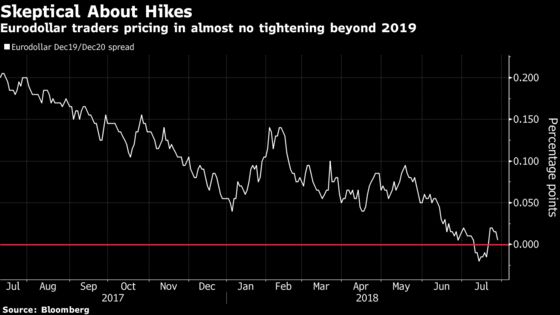 In addition to the estimated GDP rate for the second quarter -- which at 4.1 percent was 0.1 percentage point below the median forecast of economists -- muted price pressures may have contributed to the rally in U.S. government debt. Core PCE, a key inflation measure for the Fed, eased back to 2 percent from 2.2 percent in the prior three-month period.
A lack of inflationary pressure is also showing up in the yield curve, which is used by some market observers as a potential recession indicator. The gap between 2- and 10-year yields narrowed for a fourth day Friday, returning the differential close to its tightest levels since 2007, and the spread between 5- and 30-year rates also declined.
Yields have edged back up from the day's lows, but it's clear rates markets aren't taking strong bullish cues on the economic outlook from this latest report card. As the impact of Friday's much-heralded data recedes in U.S. rates market, perhaps the strongest takeaway is that investors need more convincing about how enduring Donald Trump's economic "miracle" will be.