Dollar Bulls Profiting From Treasury Rout Stung as Yields Stall
(Bloomberg) -- The dollar's newly revived correlation with Treasury yields -- a rallying cry of late for greenback bulls -- may be cutting short the currency's five-week climb.
After its best run in three years, the dollar has retreated from Friday's closing levels as benchmark 10-year U.S. yields stall out below the more than six-year high set last week. The two assets have been moving more in sync: The 60-day correlation between the Bloomberg Dollar Spot Index and 10-year yields is the most positive since January 2017, after spending much of 2018 indicating an inverse relationship.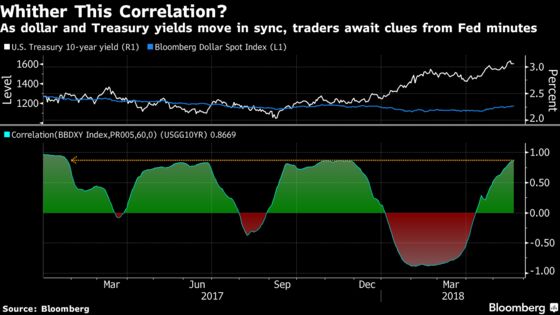 The upshot is that one of the biggest questions hanging over the FX market -- whether the dollar can extend its unexpected 2018 strength -- may go unresolved until traders figure out the next step for the bond market and the Federal Reserve. For now, at least, that means the dollar rally is at risk, given that the central bank's tightening path is "priced to perfection," according to Mazen Issa at TD Securities.
"The support from yields may wane as there is less room to price in more rate hikes," said Issa, a senior currency strategist.
The greenback's "tipping point" could come Wednesday with the minutes from the Fed's May meeting, according to Issa. He expects the release will contain "dovish undertones." TD projects two more Fed hikes in 2018, whereas traders have been building bets on three additional increases.
Analysts at Scotiabank say the dollar may yet receive a lifeline this week, in the form of a hefty schedule of Treasury issuance.
Should foreign investors seek to buy into the combined $99 billion of fixed-rate note auctions, which kicked off with a two-year offering Tuesday, that could create a bid for dollars, Scotiabank chief FX strategist Shaun Osborne wrote in a note.
To be sure, rising currency hedging costs may have reduced foreign appetite for U.S. sovereign debt, if data out of Japan in recent months is any guide. Granted, the figures are through March, but they could indicate diminished need to buy dollars from at least one investor base. At Tuesday's two-year Treasury offering, indirect bidders took the smallest share since December 2016. Some use that group as a proxy for international demand.
Issuance aside, Scotiabank recommends selling into further greenback gains after the U.S. Dollar Index failed to advance beyond a key Fibonacci retracement level at 94.20 on Monday.
"Price action suggests markets may now start to look to fade USD gains rather than buy into USD dips," he wrote.