Rate Caps Are Like Drugs: Avoid Them, Kenya's Njoroge Says
(Bloomberg) -- Kenyan central bank Governor Patrick Njoroge warned legislators against maintaining a limit on commercial lending rates, saying the East African economy needs solutions that deal with underlying problems, rather than measures that paper over symptoms.
Rate caps are similar to doping by athletes, which gives a false boost to performance, Njoroge, a marathon runner himself, said. Hard training is akin to finding more lasting solutions for the economy, the governor said, citing Eliud Kipchoge, the Kenyan marathoner who broke the world record in Berlin this month.
"It's a bit like doing drugs. Don't do it," Njoroge said of the ceiling that's been in place for two years. "Talk to Eliud Kipchoge and he will tell you there is no other solution but to train, to do the right thing, to be disciplined. That is what we need as an economy. It's not just removal of caps that is the issue, it's how we move forward to resolve this."
The governor has been opposed to the limit set at 400 basis points above the central bank's policy rate, saying it would squelch loans to businesses and households. President Uhuru Kenyatta, who previously backed the cap, has since conceded that it's had "unintended consequences" on the economy. However, lawmakers have refused to scrap the legislation, arguing that banks are still growing return on equity by more than 10 percent.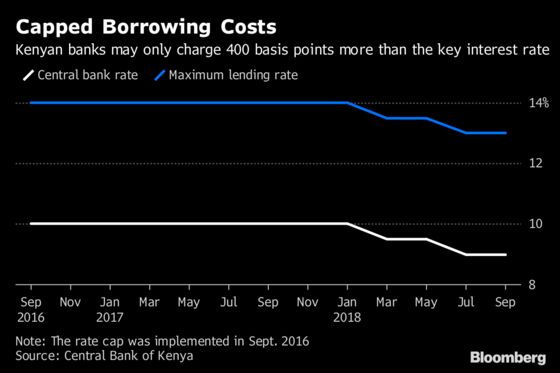 While the industry return on equity was 20.7 percent in 2017, pretax profits declined by almost 10 percent to 133.2 billion shillings ($1.32 billion) last year, partly due to a protracted election period, and the total loan book shrunk by 6 percent to 2.16 trillion shillings.
Despite the caps, the central bank expects private-sector credit growth to rebound to 7 percent by the end of the year, compared with 4.3 percent in August and a low of 2.4 percent in the 12 months through December.
Treasury Secretary Henry Rotich said last week the government could begin reviewing the controversial law once lawmakers approved new tax measures, the Nairobi-based Business Daily newspaper reported on Sept. 20.
"We continue to insist that the interest-rate caps are strangling the economy," Njoroge said. "We can't give up. We will continue to explain to policy makers and they will understand."
Kenya's Monetary Policy Committee retained its benchmark rate at 9 percent at its latest meeting on Tuesday. Njoroge said the policy makers noted there had been "perverse outcomes" from two rate cuts in March and July, that may constrain credit extension.
The central bank forecasts 6.1 percent economic growth in the second quarter and overall expansion at 6.2 percent this year, Njoroge said. The statistics agency is expected to publish its own estimate later this month.