Rand Price Swings Now Wilder Than During ANC Power Struggle
(Bloomberg) -- The rand is behaving more erratically this month than it did during the height of the power struggle between Jacob Zuma and Cyril Ramaphosa in December.
The notoriously volatile currency has traded between 13.18 and 15.55 per dollar during August amid thin liquidity with many northern-hemisphere market participants on summer vacation. This week alone, it dipped below 14 per dollar on Tuesday after a report on the land reform process briefly cheered traders. But by Thursday, it had weakened above 14.50 as concerns over Turkey and Argentina weighed on emerging-market currencies.
The rand's one-month historical volatility is now at its highest level since December 2016 and the currency is headed for its worst August performance against the dollar on record, on track for a 9 percent drop. This would also be the worst monthly performance in more than two years.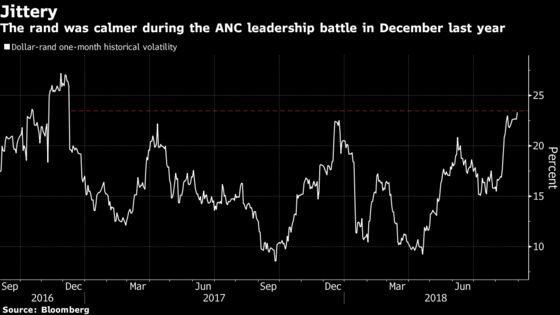 On the other hand, the rand's implied volatility, based on options to buy and sell the currency, has moderated from a seven-year high, suggesting traders expect price swings to narrow in coming weeks. But traders may be too sanguine: the risks that helped spark the sell-off in the currency this month, including the land issue, show no signs of abating, a gauge by GeoQuant shows.
"The rand will remain vulnerable to both fragile local and global sentiment," Zaakirah Ismail, a fixed-income strategist at Standard Bank Group Ltd., wrote in a client note dated Aug. 27. "Local policy uncertainty will likely persist until the South African national elections next year."
The currency slumped as much as 2 percent on Thursday and traded 1.9 percent weaker at 14.6253 per dollar by 3 p.m. in Johannesburg.