South Africa Rand's Misery Just Got Worse 
Now there's another reason to avoid the South African rand: vanishing carry trade returns.
For every dollar borrowed and invested in the currency, traders have already lost 25 cents this year. And a forward-looking measure of carry-trade potential suggests they have little chance of recouping their investment anytime soon.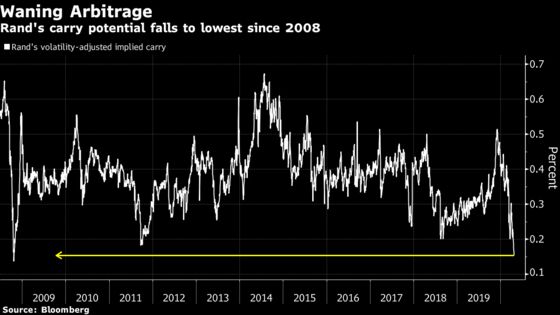 Implied carry in the rand -- expected interest-rate returns adjusted for volatility over the next month -- has fallen to the lowest level since 2008. Investors are unable to take advantage of a slight moderation in rand swings as currency forwards signal a deterioration of 306 basis points in absolute returns since April 3.
The worst-performing emerging-market currency is taking a knock from aggressive easing by the central bank in response to an already-existing economic crisis worsened by the coronavirus epidemic. Policy makers have reduced the repo rate by 225 basis points this year to mitigate an inevitable recession.
A currency trading near its weakest-ever level, combined with interest rates at record lows, is hardly a recipe for carry trades. Resurgent inflation has left the real yield at a negative 0.35%, eroding the currency's appeal to local investors.
What's more, the prospect of a 6.1% economic contraction this year and expectations for further rate cuts of 125 basis points have all but drained the rand's appeal to arbitrageurs.