Rand Dealt a Fresh Blow With Finance Minister in Firing Line
(Bloomberg) -- South African bond yields climbed to the highest this year and the rand weakened to a one-month low as traders digested news that Finance Minister Nhlanhla Nene has offered to resign, adding to risks in a week that also sees a review of the country's credit ratings.
Reports that Nene may be on the way out just two weeks before a crucial mid-term budget statement are adding to risks for the rand at a time when rising U.S. rates are weighing on emerging-market assets globally. Outflows from South Africa's bond market are already at a record for one year, and Moody's Investors Service is set to assess its Baa3 rating of the country's debt on Friday.
"Market sentiment is really bad to begin with," said Hans Gustafson, a Stockholm-based emerging-market strategist at Swedbank AB. "A stable political environment is needed and a resignation of the finance minister would add to an already grim and challenging situation."
The rand slumped as much as 1.5 percent before paring the loss to trade 0.4 percent weaker at 14.8293 per dollar by 4:21 p.m. in Johannesburg. Yields on benchmark 2026 bonds climbed four basis points to 9.28 percent, the highest since December, when a leadership struggle in the ruling African National Congress roiled markets.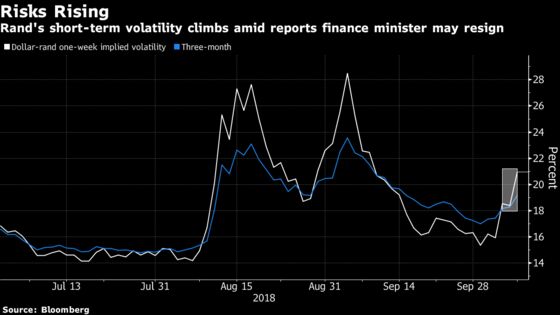 One-week implied volatility for the dollar versus the rand spiked as much as 248 basis points to 21.2 percent as options traders positioned for wider swings in the currency. Short-term volatility is at the highest relative to the three-month measure since mid-August, when a crisis in Turkey sparked a plunge in emerging-market assets.
The news also rattled stock investors, with South Africa's benchmark index set to enter a technical correction is it dropped 10 percent from its August peak. A gauge of banking shares slipped for a seventh day, the longest streak since 2015. The cost of insuring the government's debt against default for five years using credit-fault swaps climbed seven basis point to 229, the highest in a month.