Ramsden Says Bank of England Doesn't Have Communication Problem
(Bloomberg) -- A Bank of England deputy governor pushed back against criticism of the central bank's communications, saying that recent changes to the economy are creating challenges for both policy makers and markets.
Dave Ramsden, the former chief economic adviser to the Treasury who now heads markets and banking at the BOE, played down concerns that changes to guidance on interest-rate increases before the May 10 Inflation Report may have hurt policy makers' credibility with investors. "Markets are currently pricing in around three over the three years. That message seems to be getting across from the surveys of households," he said.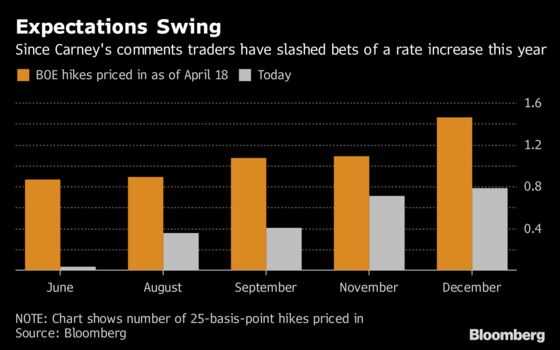 A rate hike this month was widely anticipated until only a few weeks before the meeting, when Governor Mark Carney cast doubt on such a move. While data later revealed a near standstill in economic growth, questions about Carney's intervention dominated the post-decision press conference and a hearing before lawmakers on Tuesday.
Carney's comments came after an accumulation of weak data through April, and the governor was "giving the context," Ramsden, 54, said in an interview Thursday. "Our communications have been clear and consistent. We've always made clear that the ultimate policy choices would be determined by the data. What happened between February and May is that the data changed, and that framed our decision."
The structural shift in Britain's economy is adding to the difficulties facing policy makers and investors. The BOE has stressed that U.K.'s decision to leave the European Union has constricted the supply side of the economy, reducing its potential growth rate to an estimated at 1.5 percent compared to a pre-crisis norm of around 2.5 percent. That means it can't expand as quickly without generating unwanted inflationary pressures.
"Pre-crisis it tended to be that we were on a steady track and then the demand indicators determined that reaction function," he said. "Now supply factors are playing more of a part and have done since the crisis. It's more challenging on the Monetary Policy Committee to discern what's happening and it's also challenging for markets to discern."
That change was the justification behind the BOE's first interest-rate hike in over a decade in November -- an unusual move to contain inflation as the growth potential of the economy dwindles.
Ramsden voted against that increase, arguing that there was time to wait and see before acting. He's voted with the majority at every meeting since. On Thursday, he said he agrees with his colleagues that the first quarter slowdown is temporary, that domestic inflation pressures are building and that earnings growth is in line with expectations.
After announcing its last decision on May 10, the bank said demand would probably outpace supply in the coming years. For Ramsden, that's still the case. "Were demand to fall below that speed limit then obviously that opens up spare capacity, but I don't think that's what we're seeing at the moment," he said. "If the forecast is born out then that slack will be closed very quickly."
Speaking while the BOE held its Markets Forum conference at Bloomberg's European headquarters in London, he stressed the importance of households and businesses understanding the bank's message.
"Credibility comes from the strength and predictability of institutions. Do they say what they're going to do?" said Ramsden. "In the bank's case therefore, does it meet its remit? We're judged by those outcomes and getting the message across to the public to deliver those outcomes -- they should expect that over the three-year horizon there will be gently rising rates."
The BOE has debated the possibility of altering its guidance to include a rate forecasts, similar to the Riksbank or Federal Reserve.
"You say it's a forecast as a policy maker but people think it's a promise," he said, explaining his opposition to the idea. "The risk is that you get locked in to sort of validate that promise. So I'm very comfortable with the focus being on the economic data."
He said that since the publication of data that showed the economic growth unexpectedly slowed to 0.1 percent in the first quarter, short sterling markets had become "very sensitive" to figures. A second estimate of the expansion will be published on Friday.