Ramaphosa Said to Favor Mboweni as South Africa Finance Minister
(Bloomberg) -- South African President Cyril Ramaphosa is considering Tito Mboweni, a former central bank governor, for the post of finance minister as pressure grows on him to oust Nhlanhla Nene, two people familiar with the situation said.
Nene last week told an anti-graft commission that he met members of the Gupta family, who have been implicated in a corruption scandal with former president Jacob Zuma, six times at their residence after earlier saying he had only met then on social occasions. The people declined to be identified because the information has not been made public.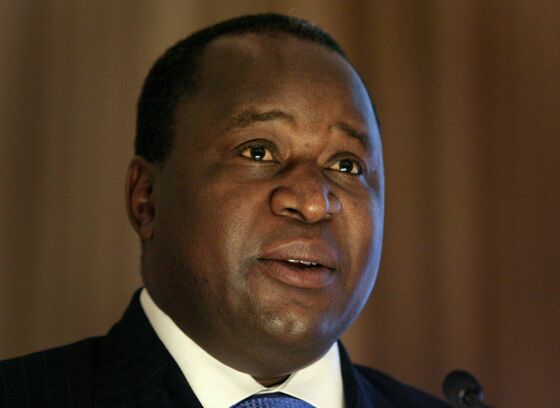 Nene's departure is unlikely to signal a change in policy with the mid-term budget due to be released in just two weeks. The new minister would be the fifth in less than three years and comes in at time when the government must reassure investors and credit-rating companies of credible plans to stabilize debt and reignite the economy.
Ramaphosa is due to make an announcement at 4:30 p.m. in Cape Town, his office said in a statement.
Mboweni, 59, headed the South African Reserve Bank for a decade until 2009. His biggest achievement at the time was building the nation's foreign-exchange reserves to almost $40 billion from less than $10 billion.
After leaving the central bank he went into business, acting as an adviser in South Africa for Goldman Sachs Group Inc. and served as chairman of AngloGold Ashanti Ltd. and on the boards of other companies.
The rand erased losses and was little changed at 14.8337 per dollar by 3:44 p.m. after earlier weakening as much as 1.4 percent.