Ralph Lauren Moves Forward on the Recovery Runway
(Bloomberg Opinion) -- Ralph Lauren Corp.'s tunraround is hitting its stride.
As the apparel giant reported second-quarter earnings on Tuesday, it bumped up its full-year sales guidance, saying it now expects revenue to be "flat to up slightly" on a currency-adjusted basis. As recently as May, it had estimated a "low single-digit" decline on this measure. And at an investor event in June at which it laid out five-year financial targets, executives said they did not expect to return to revenue growth until fiscal 2020.

That Ralph Lauren's view got so much sunnier in such a short period of time suggests the company's turnaround plans have recently gained momentum. Indeed, the latest earnings report offers hints of that. In North America, its largest market, it delivered a 2 percent increase in revenue over a year earlier on a currency-adjusted basis, a return to growth after a long stretch of declines.  
With these latest results and the updated guidance, Ralph Lauren seems to be closing in on what has been the missing puzzle piece in CEO Patrice Louvet's turnaround bid. Under his stewardship, the company has made clear progress on profitability. That improvement has been hard-fought, and has included everything from tamping down on promotions, pulling back a bit from off-price selling and retreating from certain department store locations.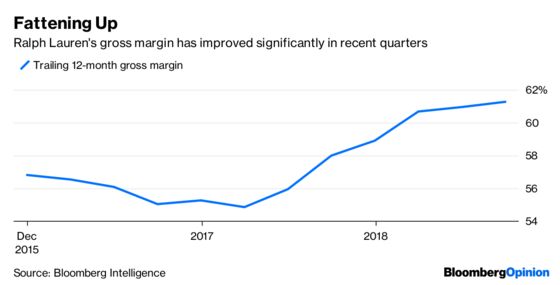 But top-line growth had remained elusive. Of course, that was partly by design: The company's recent revenue declines reflected a deliberate pullback meant to strengthen the company by notching sales in a healthier way.  By showing progress on the revenue front, Ralph Lauren is showing that it's on its way toward getting past that difficult phase of the comeback.
Also, it's probably not a coincidence that Ralph Lauren is seeing better results at a time when key retail partners such as Macy's Inc. and Kohl's Corp. look to be on the upswing.  These stores have seen sales improve as they revamped their loyalty programs and boosted their digital firepower. Ralph Lauren and other stalwart apparel brands are likely reaping the rewards of some of that work.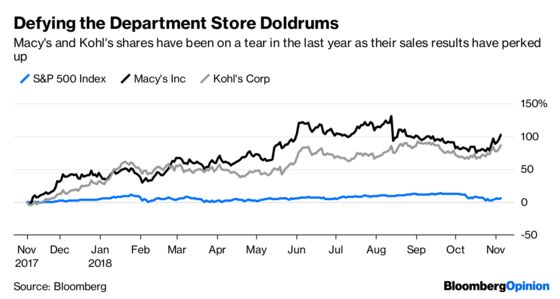 Despite raising its sales guidance and handily beating analysts' estimates for adjusted earnings per share, Ralph Lauren shares were down more than 6 percent in early trading on Tuesday. As Bloomberg News's Kim Bhasin points out, investors had already sent Ralph Lauren shares up 32 percent this year through Monday's close. Their unenthusiastic reaction to the report may be a sign their expectations had simply gotten quite high.
Don't be surprised if we see more reactions like from Wall Street as the heavy hitters of the retail industry report earnings next week and the week after — and again in January, when many report their holiday sales results. The second quarter was one of the more upbeat in recent memory for some big names in shopping, most notably Walmart Inc. and Target Corp. And consumer sentiment remains strong.
This column does not necessarily reflect the opinion of the editorial board or Bloomberg LP and its owners.
Sarah Halzack is a Bloomberg Opinion columnist covering the consumer and retail industries. She was previously a national retail reporter for the Washington Post.