Raging Fire Gives North California Worst Air Quality in U.S.
(Bloomberg) -- Northern California, known for its beautiful redwoods and vineyards, has just about the worst air quality in the U.S., thanks to the raging wildfire there. And soon it could get even worse.
Air quality from San Francisco to Sacramento, and as far south as Merced in the Central Valley, is now officially listed as "unhealthy,'' the fourth most severe level on a six-step scale compiled by the U.S. government.
Almost everyone there is at risk for breathing problems because of the so-called Camp Fire, which covers 117,000 acres and has killed at least 42. People are advised to limit outdoor activity, keep windows and doors shut, avoid breathing ash or getting it on skin, and to use only special face masks rated to filter out airborne particles.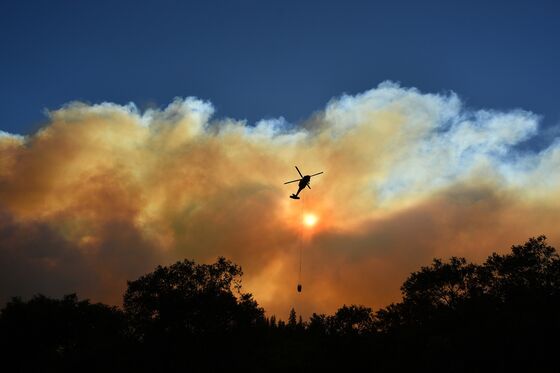 "Everyone may begin to experience some adverse health effects, and members of the sensitive groups may experience more serious effects,'' according to AirNow, a U.S. air quality tracking service created by the Environmental Protection Agency.
The forecast calls for air in Chico, Gridley, Oroville and Paradise -- the communities at the center of the fire -- to become "very unhealthy," a level linked to more serious side effects. Meanwhile, local fire officials said it could take the rest of the month to put the fire out.