Race to Join Lagarde's Team at Top of ECB Officially Kicks Off
(Bloomberg) -- Euro-zone finance ministers will sound the starting gun for the race to fill a top vacancy at the European Central Bank when they meet in Berlin on Friday.
Governments from the 19-nation currency bloc will be invited to propose candidates after ECB President Christine Lagarde wrote to them this week requesting that they initiate the process, according to a European Union official who asked not to be named in line with policy. A spokesman for the central bank confirmed that her letter had been sent.
The vacancy on the six-person Executive Board, which designs and implements monetary policy for the bloc, opens in December when Luxembourg's Yves Mersch reaches the end of his term.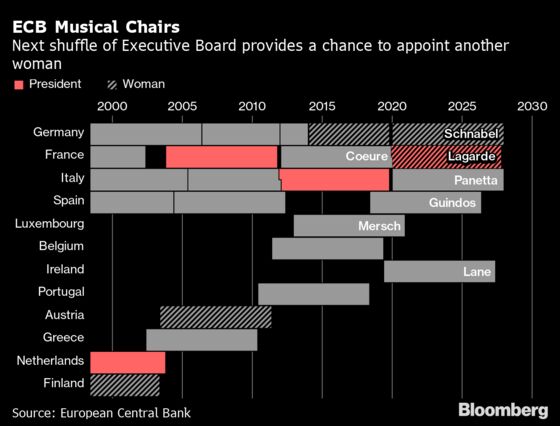 It's the last slot available until 2026, assuming the current members all complete their eight-year terms, and offers a rare chance at progress in fixing the ECB's diversity shortfalls.
Appointing a woman would make the board evenly balanced in gender for the first time. Christine Lagarde became the first female president of the institution last year and Isabel Schnabel joined in January.
Lagarde has made no secret of her push for diversity at the Frankfurt-based central bank. It's not clear whether she's privately lobbying for such an historic first for her board though. Finance ministers will choose the candidate, and their priorities may be different.
With the region's biggest economies already represented on the board, there's an opportunity for the bloc's eastern members to win their first-ever seat, or for others from the Netherlands to Finland to clinch a second shot.