R. Kelly Charged With Aggravated Sexual Abuse of Minors
(Bloomberg) -- Singer R. Kelly was charged with sexually abusing multiple minors, marking a dramatic downfall for one of the biggest-selling R&B artists of all time.
The charges against Kelly, 52, were disclosed Friday in indictments issued by a grand jury in Chicago state court. The 10 separate counts go back as far as 1998 and pertain to four women, three of whom were 13 to 16 years old at the time of the alleged abuse. He's accused of using or threatening to use force when he ejaculated on one of his victims. On each count, Kelly faces as long as seven years in prison.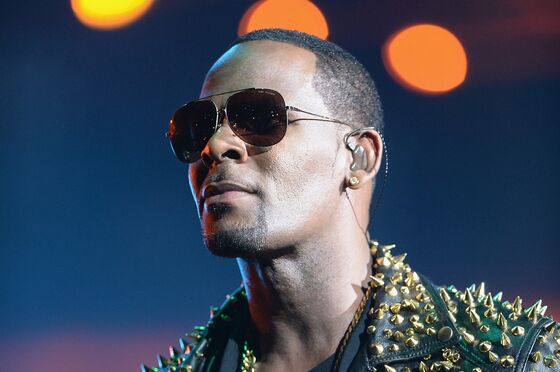 Kelly was taken into custody on Friday night after arriving at a Chicago police station in a dark colored van with heavily tinted rear windows, the Associated Press reported. The singer of "Bump n' Grind'' and "Ignition'' has been dogged by accusations of sexual misconduct dating back to the mid-1990s. He also drew outcry for marrying the 15-year-old singer Aaliyah in 1994.
The longstanding allegations have only began to take a toll on his career in recent years. He has been increasingly isolated from the music industry -- a shift that accelerated with the release of the documentary series "Surviving R. Kelly,'' which included accounts from his alleged victims.
Kelly's long-time record label, RCA Records, severed ties with the artist in January. And several of his collaborators, including Chance the Rapper and Lady Gaga, asked that their songs be taken off streaming services.
Kelly's lawyer, Steve Greenberg, didn't immediately respond to a request for comment on the charges.
In 2002, Kelly was indicted on several counts of child pornography over a video in which authorities said he was having sex with an underage girl. Kelly was ultimately acquitted, though allegations continued to pile up.
Since then, Kelly has been accused of having sex with underage women, and operating an "abusive cult.'' Kelly has repeatedly denied any misbehavior.
For years, the singer survived it all. He kept releasing new music, including the 2013 album "Black Panties'' and a Christmas record in 2016. He was nominated for the Grammy award for Best R&B Performance as recently as 2014 for the song "It's Your World.''
In total, Kelly has released more than a dozen studio albums, selling upwards of 30 million albums in the U.S. alone, and released six songs that topped the Billboard charts. He has also won three Grammy Awards, and been nominated 26 times.