Quiz Plc to Study Possible Labor Abuse at Leicester Supplier
(Bloomberg) -- Allegations about labor abuses in the U.K. clothing industry spread to fast-fashion maker Quiz Plc after a report that one of its garment suppliers in Leicester was paying less than minimum wage.
The company said Monday it has suspended business with the supplier, which appears to have subcontracted work to a third party, a violation of Quiz's code of conduct. The Times said a factory supplying Quiz has been paying workers 3 pounds ($3.80) an hour. The shares fell as much as 21%.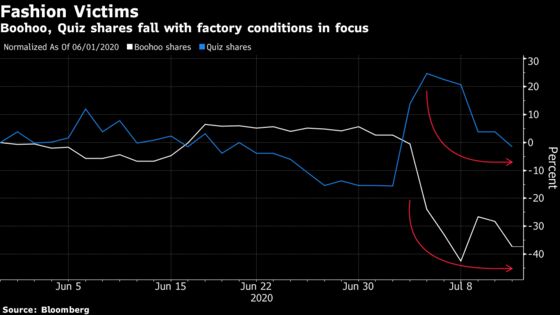 Quiz also said it will review its supply auditing process and will soon name an independent company to monitor the companies it purchases from.
Last week Boohoo Plc shares fell 28% after reports about conditions at suppliers in Leicester led U.K. regulators to start investigations. That stock fell as much as 19% Monday as the report about Quiz raised investors' concerns that problems in the U.K. industry may be widespread.
Standard Life Aberdeen Plc said Friday that it has sold the majority of its holdings in Boohoo over concerns around the firm's employment practices. The Edinburgh-based asset manager sold all shares in the retailer in three funds that focus on responsible investments, a spokesman said.
"Having seen a significant shareholder being so vocal with their concerns surrounding working practices, we believe that there will be growing difficulty for ESG investors in this arena," Shore Capital analyst Greg Lawless said in a note, referring to funds that focus on environmental, social and governance issues.