Quarles Hints He May Stay on as Fed Governor, Defying Warren
(Bloomberg) -- Randal Quarles left open the possibility that he might remain in his role as a Federal Reserve governor after his tenure as vice chair for supervision expires on Oct. 13 -- a move that would reduce the openings for the Biden administration to fill.
"My term as a governor of the Fed as you know extends until 2032," Quarles said Tuesday during a virtual Politico Live interview. "There's a tradition in our family but people serve out their full terms on the Federal Reserve board of governors even if they are no longer the chair or the vice chair still."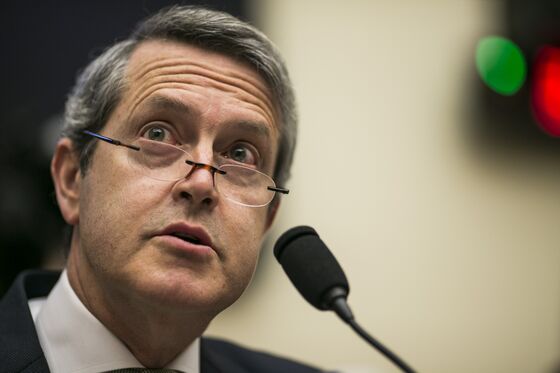 Quarles is related by marriage to former Fed Chair Marriner Eccles, who resigned as chairman in 1948 and remained a Board member until 1951.
Fed governors in recent history have stood down if they are not reappointed to their leadership roles.
Quarles also said that he would complete his time as chair of the Financial Stability Board, which expires Dec. 1.
If Quarles stayed at the Fed it would be in defiance of Senator Elizabeth Warren, who told him during congressional testimony on May 25 that she believed the U.S. banking system "will be safer when you are gone," while urging President Joe Biden to pick someone else as the Fed's top financial supervisor.
Democrats have been harshly critical of the rollback of some financial industry regulations by Quarles and Chair Jerome Powell, though they've been very supportive of the central bank's ultra-easy monetary policy to help the U.S. economy recover from the Covid-19 pandemic.
If Quarles stayed as a Fed governor it would mean one less position that Biden could nominate for the seven-seat board, which currently has one open vacancy. The administration could still name a new chair for supervision after Oct. 13. The president names Fed board candidates subject to Senate confirmation.
"I was a little surprised by this, but his governor term does last until 2032, which might put the Fed Chair in view" for him if a Republican wins the next presidential election, said Derek Tang, an economist at LH Meyer Monetary Policy Analytics Inc in Washington. "Quarles could block one seat that can be replaced, which means Biden will want to use the empty seventh slot very carefully."
Quarles's post as vice chair is also the first of the three leadership roles to open up in coming months. Vice Chair Richard Clarida's term as a governor expires on Jan. 31 and Jerome Powell's tenure as chair ends in February, though his term as a governor runs into 2028.
Biden says he has not met with Powell out of respect for the Fed's independence. The president will be considering his options in coming months of whether to keep Powell and one or both of his colleagues. All were appointed to their current roles by former President Donald Trump, who elevated Powell to the top job. Powell was nominated to the Fed by Barack Obama and took office in 2012.