Embargo Pain Soothed for Qatar as Stock Rout Evaporates
(Bloomberg) -- Qatari stocks made a breakthrough, recouping their losses from the trade and travel embargo imposed on the nation 14 months ago by its neighbors.
After trailing every major stock indexes except Pakistan's in 2017, Qatar is among the world's biggest gainers this year. The QE Index advanced 1.5 percent on Wednesday, and a further 0.1 percent on Thursday, bringing its increase in 2018 to 17 percent. While the country's dollar bonds haven't fared as well, the yield on debt due 2026 narrowed about 40 basis points since reaching a peak in May.
Gas-rich Qatar has offset the blow on its economy by finding ways around the sanctions, prompting Moody's Investors Service to reverse last year's cut in Qatar's credit-rating outlook. It said the nation, which is due to host the 2022 soccer World Cup, is likely to withstand the boycott "in its current form or even with further restrictions for an extended period without a deterioration of its credit profile."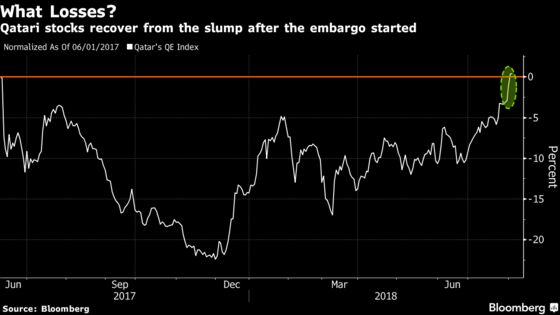 "Some institutional Gulf Cooperation Council money has returned," according to Akber Khan, senior director of asset management at Al Rayan Investment in Doha. "With profitability for a number of companies having significantly improved over the last 12 months, there's no reason to revisit the lows of 2017."
Khan also cited higher oil prices and an increase in foreign-ownership limits in a number of blue-chip stocks this year as reasons why stocks attracted more than $1 billion from abroad. The Qatar stock exchange said Aug. 1 that net foreign inflows for 2018 were $1.45 billion. The benchmark stock index will likely rise to 10,000 in the next few weeks, said Saugata Sarkar, the head of research at the brokerage firm of Qatar National Bank in Doha.
Qatar's main stock benchmark closed at 9,981.22 on Thursday. It fell 18 percent in 2017, the most in almost a decade
Inflows into equities surged earlier this year as several large companies boosted limits on foreign ownership to 49 percent. Net foreign inflow was the highest since 2014
Option-adjusted spreads on Qatari debt erased 2018's increase, narrowing five basis points
The cost of insuring against a default by Qatar for five years has fallen about 40 basis points from a recent peak in July 2017
Bets against the nation's long-held dollar peg of 3.64 riyals to the dollar have almost evaporated; forwards on the riyal due in 12 months have fallen to 45 points in the offshore market, from as high as 725 after the dispute broke
The currency's implied future value even rose last month, with forwards closing at a discount for the first time since 2011
"Qatar was trading cheap to the region at the beginning of the year as there were concerns about the impact of the tension with Saudi Arabia on their economy and further escalation," said Shamaila Khan, the director of emerging-market debt in New York at AllianceBernstein, which owns the nation's bonds. "As the economy has been able to weather the geopolitical tensions better than expected, the risk premium has decreased this year."
The International Monetary Fund said in March that the direct impact of the embargo is fading. Qatar's sovereign wealth fund has brought back about $20 billion from abroad to help support the country's banks.
The nation in April sold $12 billion of bonds, surpassing the $11 billion raised by Saudi Arabia just two days earlier. That was "another boost to confidence," said AllianceBernstein's Khan.
Still, the yield on Qatar's bond maturing in 2028 was one basis point above Saudi Arabia's debt of similar maturity on Thursday, even though the former is rated one level higher by Moody's.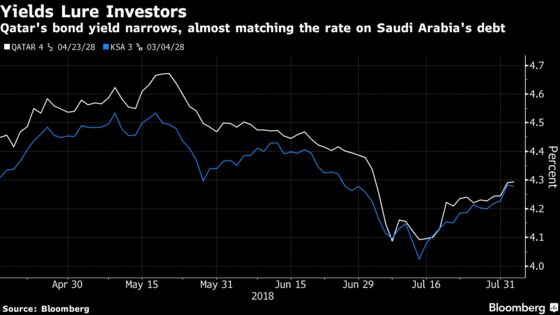 "Qatar has done better because it has come from a lower base," said Abdul Kadir Hussain, the head of fixed income at Arqaam Capital, a Dubai-based investment bank. "Further, they have already raised debt this year, so the supply overhang is lower. With energy prices stable to rising, the economic picture is more confident."
Saudi Arabia is moving forward with a plan to cut a canal along its border with Qatar and transform the state from a peninsula into an island, Saudi media reported in June. The kingdom, together with the United Arab Emirates, Bahrain and Egypt, accused Qatar of supporting terrorism and meddling in their affairs. Qatar denies the allegations.
"There are good prospects for the blockade to actually lessen in the future," Jonathan Mann, the London-based head of emerging-market debt at BMO Global Asset Management, which oversees $260 billion and holds the nation's bonds. "Saudi's pressing ahead with this canal, which is going to cut Qatar off. On the other hand, the World Cup is going to take place in less than four years and people from the region are going to want to travel to Qatar to watch the games."