Putin Says Meeting With Trump Possible at G-20 in Japan in June
(Bloomberg) -- Russian President Vladimir Putin said he could meet with his U.S. counterpart, Donald Trump, as soon as next month, at the Group of Twenty summit in Osaka, Japan.
"The next opportunity to meet with President Trump will be during the G-20 in Japan," Putin told a news conference in Sochi after talks with Austrian President Alexander Van Der Bellen.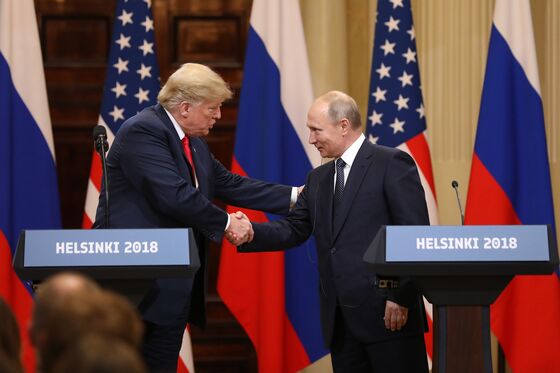 "We get the feeling that our American partners are interested in restoring relations," Putin said, speaking a day after he hosted U.S. Secretary of State Michael Pompeo for talks in the Black Sea resort of Sochi.
Trump stunned Russian officials in November by scrapping a meeting with Putin at the G-20 summit in Argentina with a Twitter announcement the day before the talks, blaming tensions over Russia's capture of Ukrainian sailors after a clash in the Kerch Strait near Crimea. That followed the cancellation of talks planned for Paris during Nov. 11 commemorations for the centenary of the end of World War I.
It's not clear what's changed since then. The sailors remain in detention as Russia continues plans to prosecute them, said Nikolai Polozov, who's leading their defense team.
Kremlin foreign policy aide Yuri Ushakov said Pompeo didn't raise the issue with Putin Tuesday, though it was part of the secretary's talks with Foreign Minister Sergei Lavrov.
When asked whether the U.S. had dropped its insistence on the release of the sailors as a condition for a meeting, Pompeo said that was a question for the White House, according to a transcript of his remarks to reporters.