Putin Says He Talked With Trump About Ukraine Clash at G-20
(Bloomberg) -- Russian President Vladimir Putin said he and President Donald Trump discussed the clash between the Russian and Ukrainian navy vessels when the two met briefly on the sidelines at the G-20 summit.
"I answered his questions," Putin told reporters on Saturday in Buenos Aires. "He has his position on these issues and problems. I have mine."
Trump called off a formal meeting with Putin after Russia seized three Ukrainian navy vessels in the Kerch Strait and arrested their crews last week. Six Ukrainian sailors were wounded as the ships were seized by Russia, which accused its neighbor of allowing boats to stray into its territory. Ukraine says the incident occurred in neutral waters.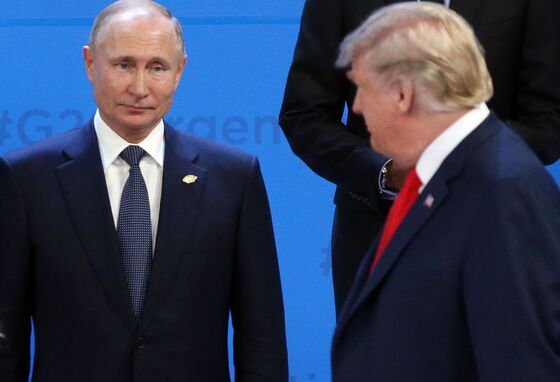 The conflict also dominated talks with the leaders of Germany and France, who asked Putin to release the Ukrainian sailors.
"I don't know if I was able to convince them," Putin said about his conversations with Chancellor Angela Merkel of Germany and President Emmanuel Macron of France. Putin drew sketches of the Black Sea skirmish for them during talks, according to a Kremlin spokesman.
"We need to prove the provocative character of the actions of Ukrainian authorities" before any negotiation about the crew's release or a swap for Russians who are held by Ukraine.
Site of skirmish between Russia and Ukraine
Putin said he regrets that he and Trump were unable to have a longer, more formal meeting on issues including arms control, trade, Syria, Afghanistan and North Korea.
"We need to talk about all these issues," he said. "I hope this meeting will happen when the American side is ready."
Asked if Trump were afraid to meet him, Putin said, "I don't think President Trump is wary of anything. He is a man of character, a very experienced man. He is a grown-up."