Punch Back, Hard: The Ryanair School of Labor Relations
(Bloomberg) -- You might have thought Michael O'Leary was mellowing with age when he agreed last year to recognize trade unions at Ryanair, the low-cost carrier he'd built into Europe's most valuable airline.
As Ryanair this week faced the biggest walkouts in its history, with more than 600 flights cancelled from Ireland to Italy, O'Leary reverted to form and punched back, hard. His first swing on Wednesday was a threat to fire hundreds of crew. Irish pilots parried by announcing a fourth day of strikes, escalating a dispute that's been simmering all year but is starting to boil over as vacationers across Europe pack their bags for summer holidays. 
For three decades, Ryanair bypassed the labor strife that has dogged traditional airlines by vigorously opposing any attempt at unionization. While the carrier insists it won't bend to any demands that would threaten its low-cost model, the unions show no signs of backing down.
Investors, who had been warned by the airline to expect summer strikes, initially cheered O'Leary's defiance, and Ryanair's stock surged almost 5 percent Wednesday after the carrier said it might reduce its Dublin staff by 300 and move those jobs to Poland. When the Irish Air Line Pilots' Association union responded by saying it would extend the walkout, shares started falling, and on Thursday Ryanair dropped to its lowest level in almost two years.  (Ryanair on Friday issued a statement saying it hadn't threatened to fire the employees, but only put them on notice that their jobs may be eliminated).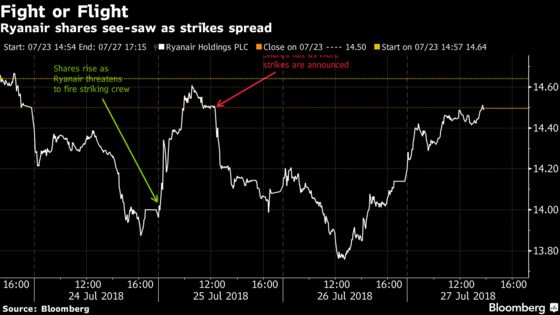 The disputes center on pay, pensions, questions of promotions and privileges based on seniority, and the airline's ability to order pilots to move to another city. But it's really about control, as Ryanair has always moved quickly—deciding when to shift aircraft, hire newcomers, get rid of staff, or expand into new markets—without consulting unions.
O'Leary, who has led the airline since 1994, has long said that flexibility is critical to his success, and he's reluctant to loosen his grip. Though Ryanair says it won't negotiate with the Irish pilots union until the strikes stop, before this week's walkouts the airline said it had been meeting with cockpit crew regularly and had made proposals to address their demands, but that the union hadn't responded; The union says Ryanair wasn't offering meaningful talks.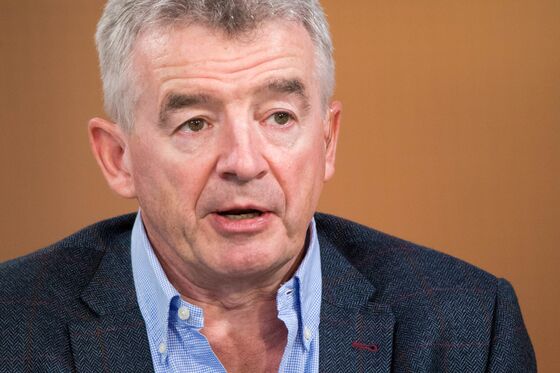 The strikers' position has been shored up by a worldwide pilot shortage. As European discount airlines thrive, EasyJet Plc, British Airways and Norwegian Air Shuttle ASA have launched recruitment campaigns targeting disgruntled pilots and flight attendants at Ryanair.
With Ryanair's shares up 15-fold over the past two decades, investors have stood behind O'Leary through stand-offs with passengers and tiffs with rivals, and even during a scheduling snafu that forced 20,000 flight cancellations in September. O'Leary, who once said "hell would freeze over" before he would allow trade unions, agreed to do just that in December as a way to appease pilots in the wake of the scheduling crisis.
But today, "there is nervousness in the investor community," said aviation consultant John Strickland. "This is a tougher situation than we've seen before."
While the move to recognize organized labor eased tensions, the peace didn't last. Through the winter and spring, unions across Europe quietly drew up lists of concerns ranging from simple requests like free water for cabin crew to more complex issues such as rules on shifting pilots between cities. As the airline's peak summer season got underway, they pounced: Strikes have forced the cancellation of flights in Ireland, Portugal, Spain, Belgium and Italy, and workers in Germany are voting whether to walk out as well.
Ryanair managers are "antagonizing their workforce, which in a union situation is never a good idea," said Bernstein analyst Daniel Roeska.
Photos shared among cabin crew this week illustrate how bad relations between the airline and its staff have gotten. One image shows a table stacked with bottles of water and cookies, which crew members say were a gift from management as the strikes began. Placed on top of the offering was a hand-written sign that said: "In 9 years this is the first time we get something for free? Take it back, we don't need it."
O'Leary has shown that he's willing to make changes if he thinks it will help boost profits, for instance seeking to improve treatment of passengers after widespread complaints. In an overhaul that began in 2014, Ryanair ditched irritants like excessive baggage charges and a trumpet sound that marked on-time arrivals, and began offering reserved seating and family-friendly services such as the ability to take a car seat on flights. Profits jumped.
"Everybody loves a converted sinner," O'Leary said at the time. "We have learned humility, and when you're Irish that's a tough lesson to learn."
Yet today, he's staking out a hard-line position. "These unions have to learn that Ryanair is not some legacy airline that's going to roll over every time we're threatened with a strike," he told investors on Monday after reporting a 20 percent dip in earnings, partly due to the walkouts.
If O'Leary chooses to negotiate, a good place to start would be relaxing requirements that cabin crew meet targets for sales of add-ons such as duty-free items during flights—which wouldn't hurt profits much but would offer a welcome reprieve to workers, said Philip Landau, an employment attorney in London.
O'Leary's aggressive strategy "is likely to anger the trade unions and the striking workers," Landau said. "If consumers decide to avoid Ryanair because of the strikes, this could have a serious impact on the business."