'Fantastic' Market for Loans Sees Private Credit Playing Catch-Up
(Bloomberg) -- Europe's syndicated debt market has become so cheap for leveraged companies that it's winning back ground lost to alternative lenders in recent years.
Junk-rated firms have obtained ultra-low pricing in debt sales this year amid fierce demand from yield-hungry investors. This is encouraging companies that had opted for private lenders in the past to switch to the public debt market.
Chemicals firm Polynt-Reichhold this week turned to the loan market to raise more than 500 million euros ($540 million), after tapping Blackstone Inc.'s credit arm GSO in 2016. The new loan will entirely replace the private debt facility at a lower cost, as well as give the firm's owners more flexibility to pay themselves dividends, according to people familiar with the matter.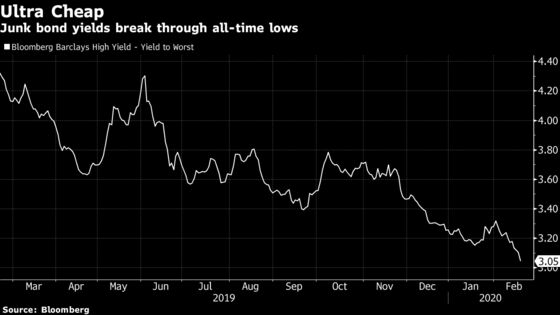 Also making the move is luxury clothing brand Isabel Marant, which previously raised debt from a group of lenders including private credit funds. The French company, owned by mid-market sponsor Montefiore Investment, made its debut in the high-yield market earlier this month, raising a 200 million euro bond.
"Market conditions are fantastic right now," said Todd Rothman, managing director at JPMorgan & Chase's EMEA leveraged finance. "We're seeing companies achieving tighter pricing and better terms in the syndicated market than they arguably would have found in a private debt solution."
The GSO loan that supported the merger of Polynt and Reichhold in 2016 had a coupon of over 10%, according to a person familiar with the transaction. While expensive, the debt price compensated for risks that could have put off public market investors at the time, such as the firm's cyclical business and the fact that Reichhold was being bought out of bankruptcy.
The renewed allure is also seen in the market for lower-ranked debt. Demand from a wider range of investors is prompting companies to sell second-lien widely instead of pre-placing it with a selected number of private lenders. This has allowed some borrowers to cut funding costs even in what's traditionally the most costly part of a capital structure.
Europe's direct lenders have made deep inroads in arranging corporate loans in recent years, increasingly encroaching on an area of finance long dominated by banks. Fund managers raised a record $32.6 billion of cash from investors in 2019, according to data provider Preqin.
Read more: Bankers, the Direct Lenders Have Your Missing Deals
While better prices in the public market may be bad news for funds looking to deploy this capital, borrowers sensitive to other benefits can help tilt the balance in favor of private credit.
"We've had people offer very attractive covenant packages, the ability to quickly make debt-funded add-on acquisitions, portability for an extended period of time," said Patrick Schoennagel, a managing director at Houlihan Lokey's capital markets group. "All that kind of stuff that's non-price related but often makes having a private lender as a partner more compelling than having a big group of participants."